Stockmeier Hosts WVMA
Stockmeier Urethanes USA was selected to host one of the 2019 Legislative
Lunch & Learn series for the West Virginia Manufacturers Association.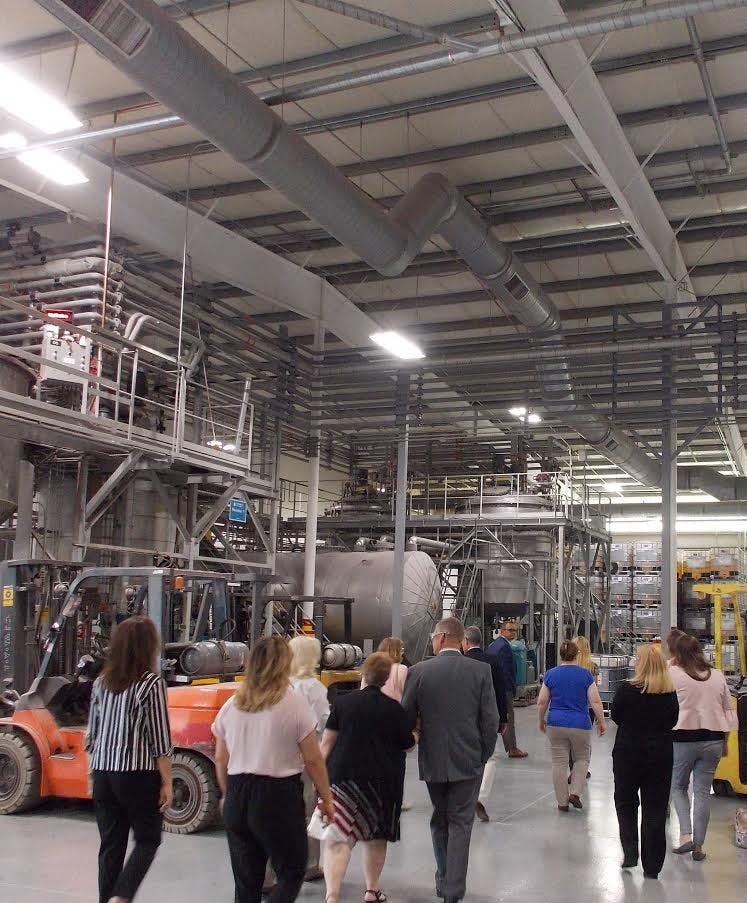 Photo During Plant Tour
Clarksburg, WV – July 2019 – STOCKMEIER Urethanes USA, Inc. was pleased to host
the West Virginia Manufacturers Association (WVMA) Lunch & Learn at their facility on
Tuesday, July 30. The WVMA created the Lunch & Learn series throughout the
Mountain State to give legislators and community leaders an opportunity to learn about
the manufacturing plants in WV and take tours of their facilities.
Chris Martinkat, Chairman and CEO of STOCKMEIER Urethanes, USA, spoke about
the history of the company, the growth seen for their USA facility and discussed policy
issues that affect everyday business for manufacturers in West Virginia. "It was an
honor to host the Lunch & Learn at our facility. I enjoyed sharing how STOCKMEIER
Urethanes began and our successes in the US with legislators and community leaders
and supporters. We chose West Virginia because there was a great deal of support for
us to establish our business here and we simply felt taken care of." stated Martinkat.
"We are happy to be a member of the West Virginia Manufacturers Association as they
consistently advocate for us as well as serve as the voice for our industry to
policymakers and regulators."
As a specialist within the STOCKMEIER Group, STOCKMEIER Urethanes GmbH & Co.
was founded in 1991 in Germany as a polyurethane systems house focused on the
development and manufacturing of coatings, adhesives, sealants and elastomers for a
wide range of sports and industrial markets. Operating worldwide with ISO 9001
certified production facilities and laboratories in Germany, France, the United Kingdom
and the United States, STOCKMEIER Urethanes provides customers with consistent
global delivery of high quality polyurethane products and services.
For more information on STOCKMEIER Urethanes please visit our website at
www.stockmeier-urethanes.com or contact us at +1-304-624-7002 or
urethanes.usa@stockmeier.com.
« Previous Post
Next Post »