Friday AM Update
1.Going to Start This Friday With Some Positive News.
– We cannot stress enough the degree of uncertainty surrounding these projections. These are truly unprecedented events with no adequate historical example with which to precisely anchor our forecast.
-The FED took 3 Months to lower rates to zero after Lehman Brothers collapsed, they acted in 2 weeks for Coronavirus.
– IMPORTANT –.  Italy Says 99% of Those Who Died From Virus Had Other Illness, and the Median Age was 79.5…   –
–China has closed down its last coronavirus hospital. Not enough new cases to support them.
-Continued policy response today as Fannie Mae and Freddie Mac have suspended foreclosures through the end of April
-Cleveland clinic has developed Coronavirus test that gives results in 2 hours not days  https://www.news5cleveland.com/news/continuing-coverage/coronavirus/metrohealth-medical-center-can-now-test-covid-19-results-available-in-2-hours
-Israeli Research Center Developing Coronavirus Vaccine https://www.haaretz.com/israel-news/.premium-coronavirus-vaccine-israel-biological-research-institute-develope-1.8665074
-China closed down last Coronavirus hospital.
-Apple opened 42 China stores
-Chinese Factories Back to 80% Capacity
-The Chinese province at the center of the coronavirus outbreak reported no new infections for the first time since the pathogen emerged more than two months ago, marking a turning point in an epidemic that's infected almost 81,000 Chinese and threatens to push the world's second-largest economy into its first quarterly contraction in decades.  From Dave Lutz at Jones Trading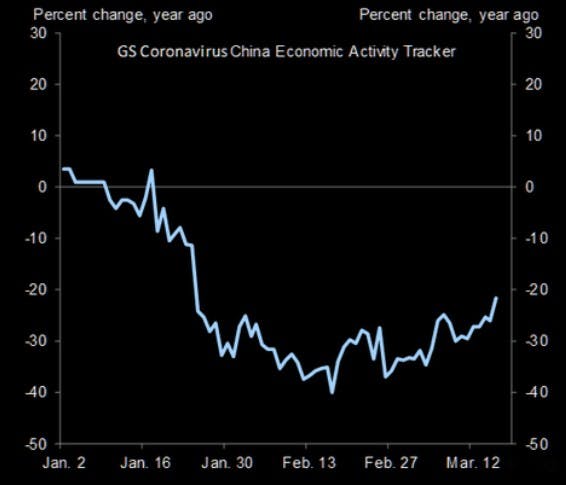 -Italian Case Growth Appears to Be Levelled Off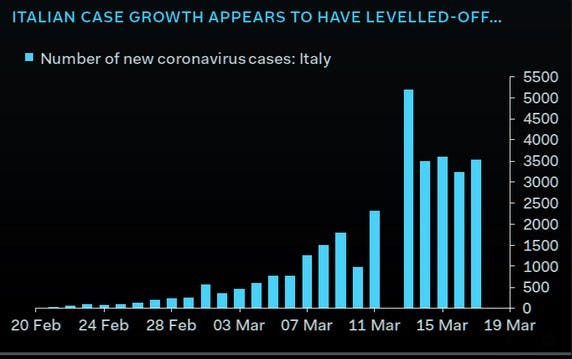 « Previous Post
Next Post »