Barndominiums
Barndominiums Are Big In Texas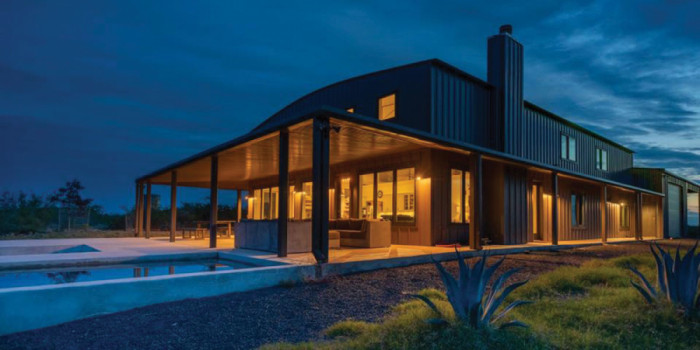 Countless options are available when building a barndominium, like this custom luxury barndominium complete with pool and fire pit. Photo Courtesy of Erik Contina
Spray Foam Magazine – Fall 2020 – Texas, the second largest state in the U.S., is known for its wide-open spaces and for "Everything is bigger in Texas." A trendy building concept is sweeping the state: a multi-purpose style of housing termed barndominiums or barndos. Over the last decade, these unique live-work spaces are becoming more prevalent in many rural areas of America.
There are lots of benefits to owning one of these buildings over and above the fact that they are multi-functional. The barndo owner has the flexibility to complete the interior space as budget allows. The other numerous benefits include quick build times, compared to conventional homes, possible lower construction costs, fire, pest and allergen resistance, lower maintenance costs, and energy efficiency. To ensure most of these benefits, spray foam insulation is the number one choice among barndominium builders.
A play on the words "barn" and "condominium" describes the combination of the two structures. Need a residence? Need a barn, studio, stable, or shop space? By putting the two together you can build a multi-use structure and typically get the square footage for less money. Rural-inspired, farmhouse style home designs are one of the hottest trends in design these days. Using steel-framed construction with unending design options, you can create your own totally unique home and workspace together under one roof. These barndos can range from homes with stables attached to a building that is half kitchen, half workshop, with bedrooms above. They can be used not only for everyday living and work, but also as entertainment venues or party spaces, making barndominium options very diverse and creative.
A barndominium can either be a barn with living space added, or a house with a barn, stable, or workshop attached. They can also be built from the ground up to serve any purpose and meet unique needs making no two ever alike and the possibilities endless. While some owners like to keep them simple and affordable, others like to add upgrades such as brick or stone facades with elaborate interior finishes often making the cost per square foot far exceed that of traditional homes.
Texas general contractor Shane Ward, owner of Shane Ward Construction, in Amarillo, has a passion for building multi-purpose homes. Shane, a former Marine, has been in the construction industry for 22 years and has built over a dozen barndominiums over the last 10 years. He started building them before they were ever termed, barndominiums. Shane liked the idea of building these multi-functional dwellings so much that he built one as a hunting lodge and getaway retreat for himself and his family.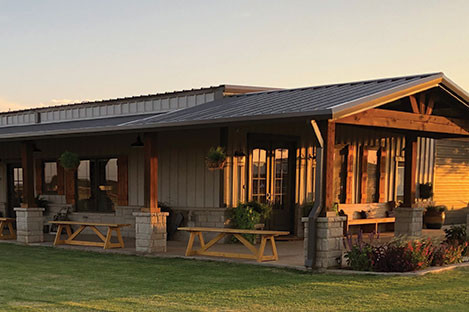 The Edwards family took a 60 x 60 x 12 barn and converted it into a 2,900 sq. ft. living space.
Photo provided by Billy Edwards, Thermo Dynamic Insualtion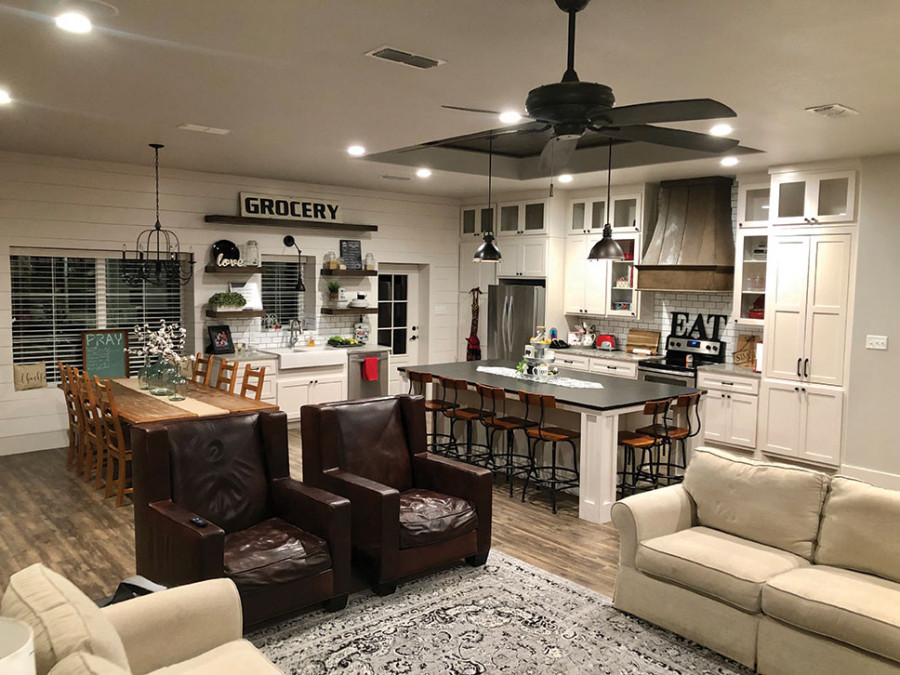 Farmhouse-style finishes to the interior of the Edwards' barndominium. Barndo life can be cozy and serve other functional purposes at the same time.
On the "barn side" of the structure, he keeps tractors, ATVs, and other equipment. He says, "The concept of house and barn together is very convenient, and the metal shell is almost no maintenance." When it comes to insulating all of the barndos he builds, Shane states, "Using spray foam is a no brainer. My experience has been that it provides a very substantial savings in heating and cooling costs." Shane says that when customers come to him and they're on the fence about whether to build a home and a barn or barndominium, he always suggests they go with the barndominium. And when it comes to insulating their barndo, in Shane's straightforward Texas style, he tells all of his customers, "I am not a salesman, but if you don't use foam, you're foolish." When it comes to choosing a spray foam insulation contractor, Shane's go-to in Texas is, Thermo Dynamic Insulation. He states, "They have been very dependable and stay competitively priced. They understand the foam science very well and continually educate themselves within their profession."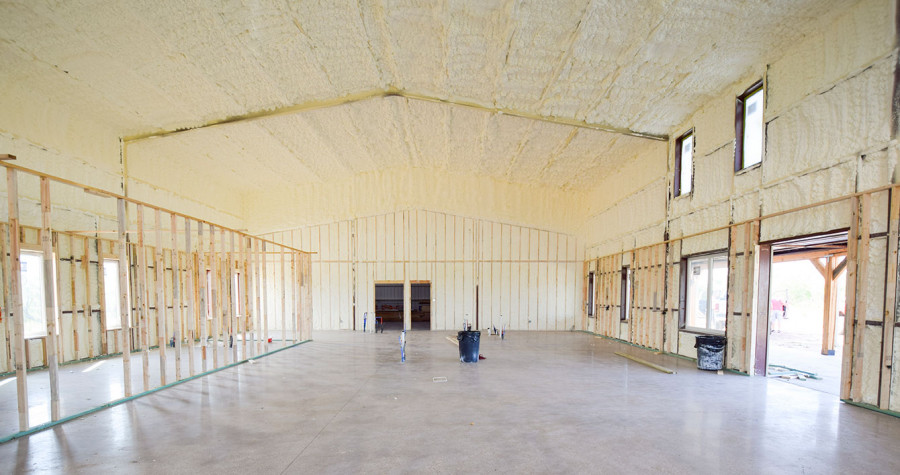 With the use of spray foam insulation to the walls of this 4,000 sq.ft. barndo, the building owner has reported improved energy efficiency and very substantial savings in heating and cooling costs.
Photo provided by Leroy Henry
In business since 1999, Thermo Dynamic Insulation, owned by Warren Merrell, is an award-winning company with six locations throughout Texas and were the first SPFA PCP member in Texas. Clay Merrell, Warren's brother and owner of the Amarillo branch, sprays all of Shane Ward's barndominiums. Clay states, "We run three rigs, two with open-cell foam and one with closed-cell foam. Both rigs have single proportioners with dual hoses. For metal buildings, (Shane's barndominiums included) we use 1″ closed cell foam on the exterior to stop any type of leaks and infiltration and then spray 5 1/2″ in the roof and 3 1/2″ in the walls with open-cell foam." Their preferred brands of foam are, Gaco Western and SES foams, which they spray with Graco CS Fusion guns for closed-cell and PMC's newest gun, the AP 3 for open-cell. Their hydraulic proportioners are also from Graco and PMC.
The company's VP of Sales, Billy Edwards, located at the Idalou/Lubbock, Texas branch, liked the idea of barndominiums so much that he built one as a permanent residence for himself and his family. Billy took an existing 60 x 60 x 12 barn located on 4.3 acres and converted it into 2,900 sq. ft. of living space. Being in the business and being able to spray his own barndominium definitely had its advantages. Energy efficiency is a big deal for these Texas steel buildings, due to the brutal summer temperatures. Billy leaves his A/C on 68 degrees all day long. He states, "Our electric bill averages around $250 a month and that includes us watering our yard every day." Another added plus, according to Billy, is that his wife rarely has to dust.
When contractors foam a barndominium they have a variety of options available for applying foam. Of course, they consult with the owner first and agree upon a preferred method of application. The application of spray foam on barndominiums can be as unique as the barndos themselves. One thing is for certain, the more R-value for heating and cooling and sound proofing on these metal structures the better.
Whether hiring a contractor to build your barndominium or even purchasing a DIY Barndominium Kit, the options are limitless and as big as the Texas sky. One thing is for sure, in order to keep these unique mulit-use, cost-effective structures energy efficient, and comfortable, for countless years to come, spray foam insulation is a must according to contractors and barndominium owners.
https://www.sprayfoam.com/foam-news/barndominiums-are-big-in-texas/3686
« Previous Post
Next Post »