China Update
China economy to slow as industries struggle from power crunch
Author: Fanny Zhang
2021/09/29
SINGAPORE (ICIS)–China's economic prospects are being weighed down by an ongoing power crunch in a huge swathe of the country, threatening overall industrial production, with much tighter controls on energy consumption in place in selected provinces in September.
Some investment banks have shaved their GDP growth forecast for the second-biggest economy below 8% as industries struggle from power shortage stemming from high coal prices, and efforts by some provinces to keep within their respective energy consumption targets in the third quarter.
Goldman Sachs now expects China to post a 7.8% GDP growth in 2021, down from its previous forecast of 8.2%.
The US investment bank cited "significant downside pressures" from major industrial output cuts caused by power outages, which affect an estimated 44% of the country's industrial activity.
China-based investment bank China International Capital Corp (CICC) expects the GDP drag would be 0.1-0.15 percentage point in both the third and fourth quarters, with overall industrial output to be reduced by 1.3%-1.5%.
A prolonged production cut could shave China's fourth-quarter GDP growth by a full percentage point, according to US-based investment bank Morgan Stanley.
Japan-based Nomura has likewise revised down its full-year GDP forecast for China to 7.7% from 8.2% previously, with third-quarter and fourth-quarter growths projected to come in at 4.7% and 3%, respectively.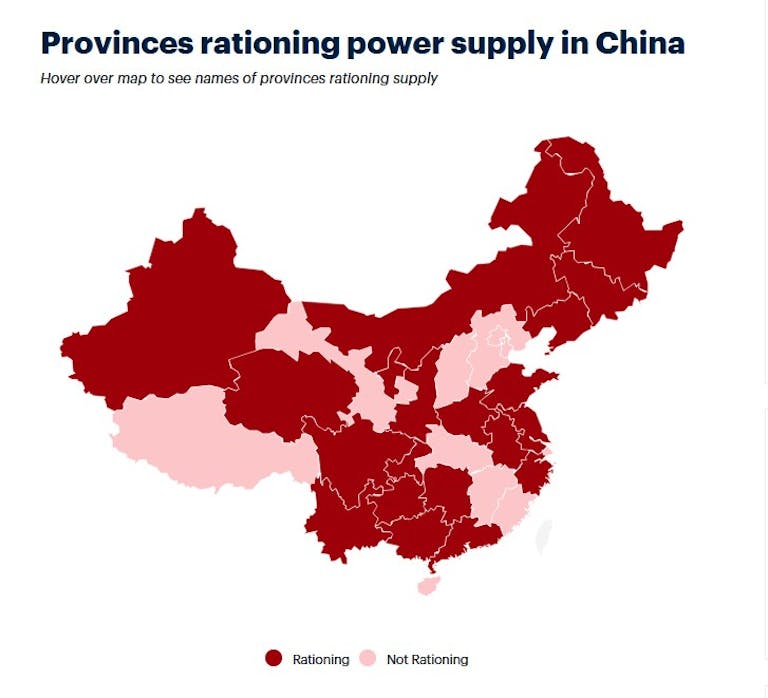 Power rationing is now in place at 20 of the 31 provinces/municipalities in mainland China, with coal-based power plants running at reduced rates to stem losses arising from high feedstock costs. https://e.infogram.com/5e89a67b-46d1-4592-9a81-1604a5610c85?parent_url=https%3A%2F%2Fwww.icis.com%2Fexplore%2Fresources%2Fnews%2F2021%2F09%2F29%2F10689696%2Fchina-economy-to-slow-as-industries-struggle-from-power-crunch&src=embed#async_embed
China has been leading the global economic rebound from a pandemic-driven slump in 2020, having successfully contained COVID-19 infections much earlier than the rest of the world.
Its industries have been working double time to accommodate increased export orders, thereby causing unprecedented spikes in energy consumption.
But the country also has a commitment to reduce carbon emissions, with specific annual targets on energy consumption set for each province, in line with the goal of achieving net-zero emissions by 2060, based on China's 14th Five-Year Plan.
In September, some provinces well in excess of the limits on total energy consumption as well as intensity (consumption per GDP) in the first half of 2021 have moved to rectify the issue, aggravating the effects of the power shortage and hitting downstream industries hard.
Factories are being forced to cut production or shut operations, and in some regions, office buildings, shopping centres and even residential homes are affected.
Power companies are losing money from high cost of coal, said freelance economist Guan Qingyou.
Spot prices of coal – which accounts for 70% of China's total power generation – nearly quadrupled from 2020 levels to $180/tonne, in line with strong gains in global commodity prices this year.
China's energy challenges may not be resolved in the short term, Guan said.
Industrial production in China has weakened for five straight months, with the August official purchasing managers index (PMI) reading of 50.1 barely above the threshold for expansion.
Another concern looming in the background for the Chinese economy is the debt-saddled giant property developer Evergrande.
The company, which is China's second-bigger property developer, has accumulated $305bn in debt, which was about 2% of China's GDP.
Analysts said that Evergrande's collapse is threatening stability of the Chinese property market, as well as financial system.
Focus article by Fanny Zhang
https://www.icis.com/explore/resources/news/2021/09/29/10689696/china-economy-to-slow-as-industries-struggle-from-power-crunch
« Previous Post
Next Post »