Class 8 Truck Orders Surge
Class 8 Truck Orders Soar, Up 145% Year Over Year
by Tyler Durden Mon, 10/12/2020 – 09:40
Orders for heavy duty Class 8 trucks soared again in September, according to preliminary data released by ACT Research. Orders totaled 31,100 units, up 60% sequentially and up 145% from a year prior. Finalized data will be released during the middle of October.
It is the order book's highest level since late 2018, according to TT News. It's also a positive looking trend that continues to make the case for a V-shaped economic recovery. Class 8 orders had seen significant pressure in the beginning of 2020 due to the coronavirus pandemic.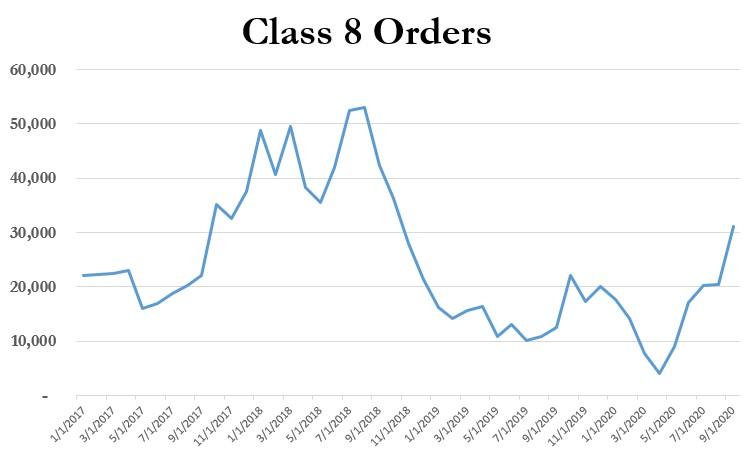 Kenny Vieth, president and senior analyst for ACT Research, commented: "Preliminary data show that September orders for medium- and heavy-duty vehicles posted positive readings for a fourth consecutive month, after 19 consecutive months of negative year-over-year comparisons. In aggregate, Classes 5-8 orders rose 49% from August and improved 88% compared to year-ago September."
He continued: "As orders rebounded to relatively healthy levels early in Q3, most of those orders were targeted at filling open 2020 build slots. With most of that work done by the end of August, we suspect the lion's share of September's orders were booked into 2021."YOY order growth has been accelerating since April
The medium duty market has also seen a 'rising tide' as a result, Vieth said: "There is a symbiotic relationship between heavy-duty freight rates and medium-duty demand, and clearly, the shift in consumer spending from experiences [services] to goods has been good for the providers of local trucking services."
"My hunch is this is probably the large national guys coming in and doing their annual deal," said ACT Research Vice President Steve Tam.The 2020 recovery from coronavirus-induced lows near April
"I think there is a bit more risk of that happening this time, happening more quickly. The reason is the whole labor dynamic. Their trucks are still out there [parked]. So we don't need to add as many trucks as it might appear we are going to," Tam noted said.
Tam concluded that the outlook remained strong: "If our freight forecast is correct, they are going to experience some very solid levels of profitability for the remainder of this year and for next year as well."
https://www.zerohedge.com/economics/class-8-truck-orders-soar-145-year-over-year
« Previous Post
Next Post »