Highlights from Tempur Sealy Investors Call
May 11, 2023
Tempur Sealy International, Inc. (TPX) Q1 2023 Earnings Call Transcript
May 09, 2023 12:32 PM ETTempur Sealy International, Inc. (TPX)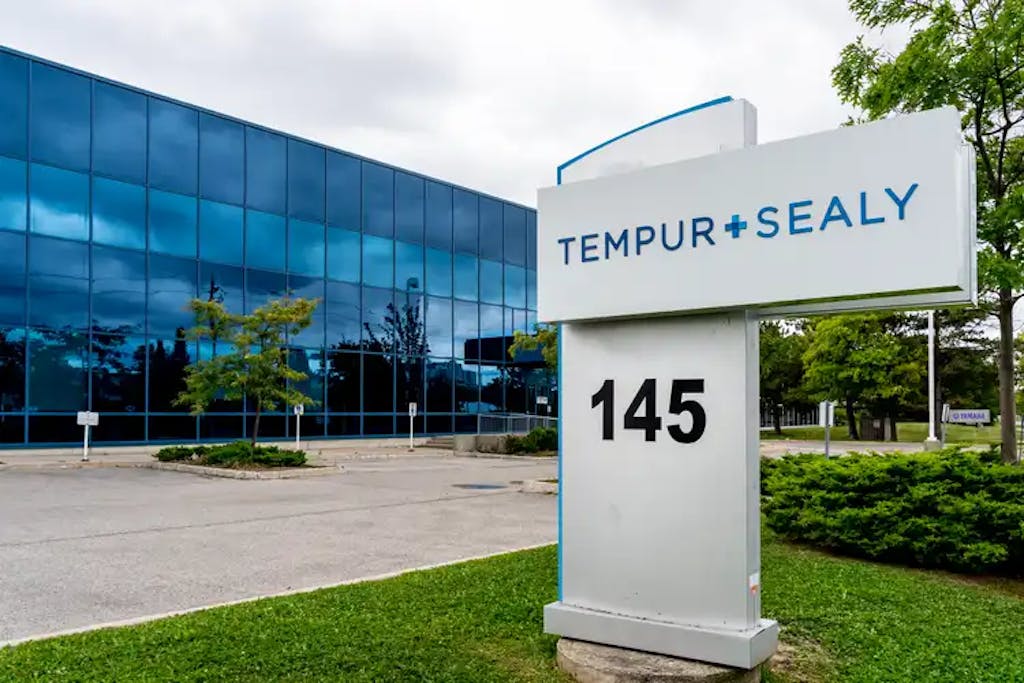 Q1: 2023-05-09 Earnings Summary
EPS of $0.53 beats by $0.02 | Revenue of $1.21B (-2.53% Y/Y) misses by $5.66M
Tempur Sealy International, Inc. (NYSE:TPX) Q1 2023 Earnings Conference Call May 9, 2023 8:00 AM ET
Company Participants
Aubrey Moore – Vice President of Investor Relations
Scott Thompson – Chairman, President, and Chief Executive Officer
Bhaskar Rao – Executive Vice President, and Chief Financial Officer
Scott Thompson
Thank you, Aubrey. Good morning, everyone, and thank you for joining us on our 2023 first quarter earnings call. I'll start by sharing some highlights from our first quarter performance, and then Bhaskar will review our financial performance in more detail. After that I will share some closing comments before we open the call up for Q&A.
In the first quarter of 2023 net sales were approximately $1.2 billion and adjusted EPS was $0.53, which represents a 75% growth in sales and approximately 300% growth in adjusted EPS over the first quarter of 2019, a pre-COVID period. Compared to the same period last year, this represents a 3% decline in sales and a 23% decline in adjusted EPS, driven by launch costs to support our new innovative products in a less robust macroeconomic environment.
Our wholesale channel performed well. We reported wholesale sales stable to prior year as our continued global market over performance mitigated the heightened macroeconomic headwinds. Our direct channel performance was more impacted by the current environment. Unfavorable foreign exchange rates presented a challenge to our international operations and cost us $0.03 per share quarter.
As I noted, though industry conditions were less favorable than expected, it is very clear we continue to outperform the market and units appear to be stabilizing at a historical trough level. In the second quarter our expectation is that our sales will return to growth year-over-year, driven by continued global market outperformance and the rollout of our new products. We also anticipate industry demand will slowly improve in the back half of the year as comps ease.
As a reminder, U.S. produced mattresses consumption declined approximately an unprecedented 24% in 2022 representing trough unit production for the last 10 years. Most of the decline was post first quarter of 2022. As we've now fully lapped the challenging prior year comps, we anticipate the industry will slowly recover, resulting in a more stable U.S. bedding environment in the full year 2023 with the back half unit trends stronger than the first half.
Turning to highlights and some key wins in the quarter. First, we continue to see positive momentum in our brands and private label products at wholesale. Our high quality products leading customer service continues to drive third party retailers to lean into our brands and non-branded products. Our third party retail partners in the U.S. are especially supportive of the new Stearns & Foster product.
We are tracking to expand our third-party retail slots of Stearns by approximately 20% compared to the previous collection. We believe these slots will be coming from competitors, enhancing the total presence of Tempur Sealy brands on U.S. retail floors. We continue to make progress towards our goal of making Stearns & Foster our next $1 billion brand more than doubling its current size today.
On the product side, we're well underway with our rollout of the new Stearns & Foster collection in North America. The new products are designed to further differentiate our high-end traditional Innerspring brand, while also offering an extended lineup of products that address the needs and differences of consumers.
The collection's superior innovation, enhanced step-up opportunities, and elevated design together create unprecedented luxury Innerspring product that meets the needs of what we believe is an underserved consumer seeking a premium Innerspring product. Overall, Stearns & Foster performed well relative to the U.S. market in the first quarter, and we believe it's currently the fastest growing major brand in the U.S.
The second highlight of the quarter is the launch of our new TEMPUR-breeze product and our new innovative line of smart adjustable bases in the U.S. These products build on the success of our prior generation of breeze and adjustable bases to provide even greater consumer benefits to America's most highly recommended mattress. The new TEMPUR-breeze product features our latest Tempur material innovation, which delivers greater Tempur yield characteristics and greater cooling benefits.
In our new line of adjustable bases, we enhanced our connected-sleep platform and our continued focus on improving sleep and overall health and wellness of consumers. In addition to our sense and response technology for snoring featured in our previous smart base collection, the new bases also feature lumbar support at the touch of a button and advanced technologies, including our industry first acoustic massage and a range of relaxation features that help prepare customers' bodies and minds with deep rejuvenative sleep.
Exclusive to the top-tier TEMPUR–Ergo ProSmart Base, wind down programs and SoundScape mode offers an immersive and multi-sensory experience. After very positive feedback from consumer studies and retail partner previews, we started shipping the new TEMPUR-breeze and the new TEMPUR–Ergo power bases in late first quarter. The rollout is going according to plan, and we have shipped over 75% of breeze four models to date.
We pre-built inventory to support a seamless transition across our valued Tempur-Pedic retail partners network. Most all retailers will be floored and selling for Memorial Day, which is when our new breeze and smart base advertising campaigns begin. This is the first North America Tempur mattress launch in four years.
The third highlight is that we've significantly fortified our supply chain and we're executing orders within normalized order to delivery times. Our U.S. operating team, plant personnel have worked significant amounts of overtime to get us to the point of normalized order to delivery times The overtime and expediting cost hurt us a bit in gross margin in this quarter, but we're thrilled to be back on normal customer service ahead of the prime selling season of second and third quarter. This is especially positive and we've accomplished this while outperforming the broader market.
The final highlight is that we successfully kicked off the rollout of our new Tempur International product this quarter. This all new lineup of mattresses, pillows, and bed bases have been strategically designed to optimize Tempur's global addressable market. The expanded price points and consumer-centric innovations in the new collection will continue to appeal to our legacy ultra-premium consumers at prices of 3000 and above, while also meeting the needs of consumer shopping for mattresses between 2000 and 3000.
We streamlined the construction of the new products to drive future manufacturing efficiencies and enhance our ability to adapt our products to individual market's needs. This updated process has enabled us to feel confident in unlocking a broader price range without materially altering our margin profile of our Tempur International business. We're manufacturing both the new lines of products and the old line of products as we transition. This is a heavy lift for our overseas team, and after the transition period, we plan to optimize production of the new line, which we expect will be a positive driver for gross margins.
We are launching the new lineup in over 90 markets worldwide, and we're staggering the rollout of these new products to allow for customized approach by region. In the first quarter, we kicked off the launch of our temporary European markets. We expect the rollout to be completed for all of our subsidiary markets in Europe and Asia by the third quarter, and to be completed by the end of the year for our third-party distributors. We expect the total rollout to be completed by the end of 2023, except for the UK, which has some country specific industry fire retardant regulations. We expect the UK to be fully floored by the first quarter of 2024. The early reaction to the new lineup has been very positive.
Scott Thompson
Nice job. Thank you, Bhaskar. I'm excited to share that we have announced this morning that we've signed a definitive agreement acquiring Mattress Firm, the nation's largest mattress specialty retailer. This acquisition aligns with our strategy of acquiring companies that extend our competitive advantages, enable us to move closer to consumers and facilitate continued innovation. This combination will compliment Tempur Sealy's extensive product development and manufacturing capabilities with vertically integrated retail.
First and foremost, Mattress Firm has been a valued retail partner for more than 35 years, and we look forward to welcoming their talented workforce and more than 8,000 employees to the Tempur Sealy family once the deal is closed. The transaction is expected to close in the second half of 2024, subject to satisfactory and customary closing conditions and applicable regulatory approvals. Mattress Firm is expected to operate as a separate business unit within the Tempur Sealy organization and to continue to provide customers with brands and products they desire.
This morning, we released a separate press release and investor presentation related to this transaction. Both can be found on our investor webpage. These documents provide further details on the transaction and the strategic rationale. We see this transaction as being attractive both strategically and financially.
Susan Maklari
Good morning. My question is around the acquisition that you announced this morning, appreciating what the synergies are, but how do you think about managing some of the perhaps channel conflicts that are going to come through with this and some of the adjustments that will need to be made in terms of product and offerings and logistics and those types of efforts in there, and just how are you thinking about some of those elements of this deal?
Scott Thompson
First of all, let me talk about channel conflict. First of all, we consider it — one of our expertise is the ability to manage omni-channel strategy throughout the world and have been doing it for a number of years. If you look at the most recent acquisition before this Dreams as kind of a maybe a beta test, Dreams is obviously a large retailer in the UK. We're obviously in the UK and we did not have any problems with channel conflict in that acquisition. And we've been working on this, at least this has been in the marketplace where people have thought about this for years, probably five or six years. I doubt there's anybody in bedding that is surprised with this transaction.
And if you move over to the States, we're in retail stores. We've got our Sleep Outfitters operation, which is a direct competitor to Mattress Firm in the marketplace and we've got our Tempur stores. And although years ago, and I'm going to say what, four or five years ago, Bhaskar, yes, there used to be a little bit of noise in the system. I think once retailers saw how we operate our stores that I'm going say we're a good retailer and we're not really trying to steal share from anybody, it hasn't been a problem. Additionally, over the years we have discussed this concept with various of our — various customers, large and small, and I think we have a good understanding of what their expectations are. And it's, look, it's going to depend on us having quality product, quality service, quality advertising and servicing them correctly, and making sure that they are not put at a competitive disadvantage. And so I'm not expecting any significant channel conflict as long as we deliver quality product at the right price with the proper support around it.
You asked about kind of logistics, and I assume you're kind of moving towards synergies. You know, look, they're both very large companies. We've put a $100 million down on a piece of paper. The kind of stuff you should be thinking about is warehousing and logistics. There are cities where we literally have warehouses within five miles of each other. And on a Tempur product, we would make the product in our plant, put it on a truck, take it to our warehouse, take it off the truck, put it in the rack where it would sit and wait for an order from Mattress Firm. And then we would get another truck, take it down from the rack, put it on the truck, and we would take it to their warehouse. Then they would take it off the truck, put it in their rack, and they would wait for a customer order, of which then they'd get another truck, take it down from the rack, put it in, and take it to the customer's house. I mean that's just the way the systems work. We've never been able to get the two companies to figure out how to clean up some of the logistics. So we think there's good synergies in logistics and warehousing.
The other thing that may not be as evident to the people who aren't in the business is on the manufacturing side and this would be on the Tempur side of the house, not the Mattress side of the house. I think everybody knows we're ordered to delivery on Sealy. And so that means we don't know what beds we're going to make until we get an order from somebody. And I'd generally call it three, four days. And these are in Sealy operations as you know, these are manual manufacturing.
So we whipsaw the workforce. There are some days they show up at work and we've got lots of orders and we expect or would like for them to work overtime. Some days they show up at work and we don't have enough orders, and they only get to work four hours. At most plants we decide on Friday afternoon if they're going to work the weekend and of course there's overtime involved in some of these swings, but it's also just a quality of workforce and be able to hire people because the hours are variable. If we had real committed orders, I and had certainty of distribution, we could pre-build and level out the manufacturing.
So on the days that we don't have specific orders, if we knew for sure we were going to get some orders, we could go ahead and build some product and level it out. And I think that's a big quality improvement for us. It's a workforce issue and there's also, I believe, significant cost savings. We, of course, would have the normal insurance savings we call a little bit of overhead here, kind of savings. I think the other thing that may not be obvious that we're really thrilled about, it's one thing COVID kind of really, really highlighted was the supply chain around the world is not very robust. Okay?
And if you stop and think about it, the reason it's not very robust is a little bit of what I just said. Nobody down in the supply chain knows for sure what their orders are. So everybody's working kind of just in time. And being able to have, we'll call it fully committed distribution, I think will allow us to fortify the supply chain by giving suppliers more certainty and being able to sign long-term contracts, which I think will also have quite frankly, some synergies.
The last one I'll kind of throw up, there's a laundry list here, but we've got your first question is, I think one of the other things that the combination does is, we have very sophisticated labs that test the quality of product. It is the core of Tempur, it is the core of Sealy, best-in-class ability to analyze foam, springs, durability. And so one thing we can do that would help a retailer is we can make sure the products that are put on their floor are the quality that they're supposed to be and continuously test to make sure that we're getting what we're paying for. I think that will make the product sharper at Mattress Firm. I think that's good for the customer, and I suspect we'll find some opportunities from a cost standpoint, once you do the really hard analytics and test the product.
https://seekingalpha.com/article/4602003-tempur-sealy-international-inc-tpx-q1-2023-earnings-call-transcript?mailingid=31426358&messageid=2800&serial=31426358.278