Liveris to Leave Dow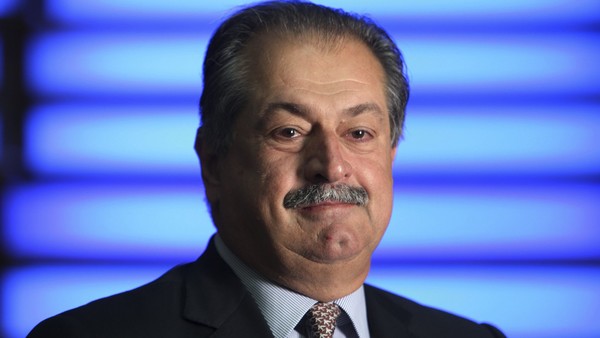 ©Bloomberg
>Andrew Liveris, chief executive of Dow Chemical, on Tuesday laid out a timetable for the end of a reign marked by controversy when he said he planned to step down no later than June 2017.
Mr Liveris, who has been in charge of the chemical producer since 2004, made the announcement during a call with investors after Dow published figures showing fourth-quarter net income nearly quintupled, from $734m in 2014 to $3.53bn.
Dow is in the middle of a complex, $130bn merger with DuPont, one of its biggest rivals.
Mr Liveris told investors that the process of completing the merger and spinning the resulting group into three separate companies would take about a year and a half. During that time, he would work with Jim Fitterling, Dow's newly-appointed chief operating officer, on setting up the new companies.
"I look forward to working with Jim . . . over that time period to . . . enable a successful leadership handover to co-ordinate with my own planned transition out of the company, which will occur when we are set up to be spun off but no later than the end of Q2 2017," he said.
>The departure of Mr Liveris, 61, will mark the end of a career that has stood out for its longevity and for Mr Liveris's tendency to attract controversy. Dan Loeb, the activist investor whose Third Point is one of the biggest shareholders in Dow, was reported in December to have written to Dow's board demanding Mr Liveris's removal.
Mr Loeb, who has criticised Dow's strategy under Mr Liveris, had described plans to make Mr Liveris executive chairman of the new company an "insult to Dow shareholders," according to the Wall Street Journal.
On Tuesday, Mr Loeb said: "We thank Mr Liveris for his role in effectuating the Dow/DuPont merger and wish him success in his next chapter. We look forward to engaging constructively with the new management teams."
©Bloomberg
Mr Liveris's spending on company business has attracted controversy. The company in 2011
reported
that Mr Liveris had been asked to repay expenses of $719,923 that were "not primarily business-related". There have been questions since about his extravagant taste, including expensive Super Bowl parties paid for by the company, and the line between his personal life and company business. The company has repeatedly denied any impropriety.
The fourth-quarter earnings figures for both 2015 and 2014 were heavily distorted by items Dow describes as "certain items" — one-off adjustments for sales and purchases of businesses and one-off financial charges. Excluding those items, net income for common shareholders rose 6.6 per cent to $1.06bn, on net sales down 20 per cent to $11.5bn.
Dow's shares were up 5.7 per cent at $45.03 in New York on Tuesday. DuPont's shares rose 5.4 per cent to $56.18.
Mr Liveris said 2016 was primed to be a "big year" for Dow. The company would continue to deliver its business plan, despite "volatile macro conditions". The company would also seek by the middle of the year to complete its planned purchase of the 50 per cent of the Dow Corning silicone joint venture it does not own. It would also "move swiftly" through the key stages of the deal with DuPont.
http://www.ft.com/intl/cms/s/0/e93db004-c9cd-11e5-be0b-b7ece4e953a0.html#axzz3z7MYBVW3
« Previous Post
Next Post »