More Harvey
Harvey Disrupts More Than One Third of U.S. Chemical Production
By
Storm shuts 37% of U.S. chlorine output and 40% of ethylene

Price gains seen in already tight caustic soda market
A third of U.S. chemical production has been disrupted by Tropical Storm Harvey, boosting prices and threatening shortages for basic industrial building blocks such as chlorine and ethylene.
Producers such as Exxon Mobil Corp. and Occidental Chemical Corp. have shut plants and cut back operations in recent days along the flood-crippled Gulf Coast. Those disruptions have affected 37 percent of U.S. capacity for making chlorine and caustic soda, salt-derived chemicals used to make vinyl and PVC pipe, according to Bloomberg Intelligence.
About 40 percent of U.S. ethylene capacity has been shut, PetroChemWire said in a report Monday. Ethylene is the most used petrochemical and largely goes into plastics such as polyethylene, used in trash bags and food packaging.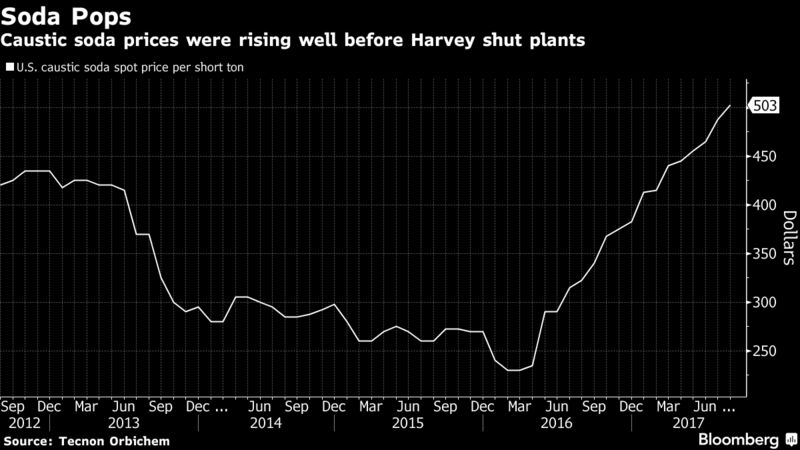 The crisis could get worse as Harvey, which made landfall Friday night in Texas as a Category 4 hurricane, is circling back into the Gulf of Mexico and could crash ashore again, this time on the Texas-Louisiana border. The full extent of Harvey's toll won't be known for days, with rain totals that are measured in feet rather than inches.
The largest chemical-price impact is likely to be on caustic soda as near-record exports had already driven prices up 77 percent over 16 months, Bloomberg Intelligence analysts Jason Miner and Christopher Perrella said in a note.
Net Benefit
Olin Corp. is the world's largest producer of chlorine and caustic, which are produced in tandem and known collectively as chlor-alkali. Even with some of its production idled in the path of the storm, the impact should provide a net benefit to the company because of higher prices, Jim Sheehan, an analyst at Suntrust Robinson Humphrey, said in a note Monday. He recommends buying Olin shares.
"With an even tighter caustic soda market in the near-term due to the chlor-alkali production outages related to Hurricane Harvey," producers could realize better price increases than the $40-per-ton they were seeking before the storm, Sheehan said.
Westlake Chemical Co. stands to benefit the most from tighter markets for chlor-alkali and ethylene as well as downstream products such as polyethylene and PVC resins, said Kevin McCarthy, an analyst at Vertical Research Partners. While its rivals are shutting plants, Westlake's facilities are outside the direct path of the storm, he said.
Occidental Chemical and Formosa Plastics Corp. are among the chlor-alkali producers that shut plants because of Harvey.
It's not yet clear that prices for ethylene and polyethylene will rise from the storm closures. Excess supplies were hanging over the market ahead of Harvey, and buyers are anticipating rising output from several new plants that have begun to come online, said Kathy Hall, editor of PetroChemWire. Plants maintain a cushion of inventory, and some may begin to restart as soon as Tuesday, she said.
"There is not a pricing panic so far," Hall said.
Damage Estimates
Ethylene prices could rise if plants are damaged and need longer to restart, she said. Another factor is how quickly flood waters recede from roads and railways to allow normal shipping of plastics and other derivatives, Hall said. And with so many Houston residents displaced by the storm, it remains to be seen how soon plant employees can return to work.
About 70 million pounds of daily ethylene output had been shut as of Monday morning, Hall said in a storm update. That's 55 percent of total capacity in Texas, the largest U.S. producer of petrochemicals.
Closed ethylene plants include ones owned by Dow, Exxon Mobil, LyondellBasell Industries NV, Chevron Phillips Chemical Co., Royal Dutch Shell Plc and Ineos Group Holdings SA.
https://www.bloomberg.com/news/articles/2017-08-28/harvey-disrupts-more-than-one-third-of-u-s-chemical-production
« Previous Post
Next Post »