Pallet Innovation
AHRMA
Dutch logistics company collaborates with BASF to develop smart pallet / "Elastocoat" C PU spray helps prolong life and reduce weight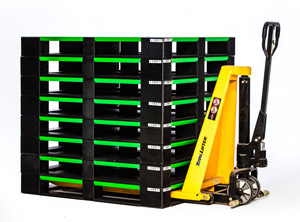 "Elastocoat" C PU spray coating helps prolong the life of Ahrma's smart pallets (Photo: BASF)
Logistics start-up
Ahrma Holding
(Deventer / The Netherlands;
www.ahrmacoatings.com
) and
BASF
(Ludwigshafen / Germany;
www.basf.com
) are collaborating on the development of a hybrid pallet concept for the logistics market. For coating the robust pallets made from medium density fibreboard (MDF) and plastic, BASF has further developed its "Elastocoat" C PU spray system.
BASF said this results in a PU coating that improves the resistance and durability of the pallets and can be sprayed directly in continuous, automated spraying units without the need for a primer coat. The durable pallets are more stable and around 25% lighter than traditional pallets and have an innovative, comprehensive track and trace system.
A transponder is integrated in the pallets and Ahrma's "supply chain big data" (SCBD) software allows the user to record not just the position and movement of the pallets, but also their ambient temperature and load state and any possible impact or dropping of the pallets. This offers benefits and cost savings for customers as it means that unused pallets can be located and optimum use can be guaranteed.
Ahrma CEO Erik de Bokx said: "There have not been any innovations in the pallet industry for more than 50 years. Our solution is to lease reusable smart pallets on attractive terms. The 'Elastocoat' C PU spray system from BASF contributes to this by enabling continuous and rapid coating in an automated process."
The "Greenpanel" MDF blanks for the pallets are supplied by Makers (Deventer / The Netherlands; www.greenpanel.nl). The concept of MDF panels sprayed with "Elastocoat" can be flexibly deployed and is also used in exhibition stand construction, for example, as a floor panel with an adapted shape.
https://www.plasteurope.com/news/AHRMA_t234451/
« Previous Post
Next Post »