Pearl Commissions New Facility in Jeddah
March 22, 2023
Pearl Polyurethane Systems announces major
new Saudi Arabian production facility in Jeddah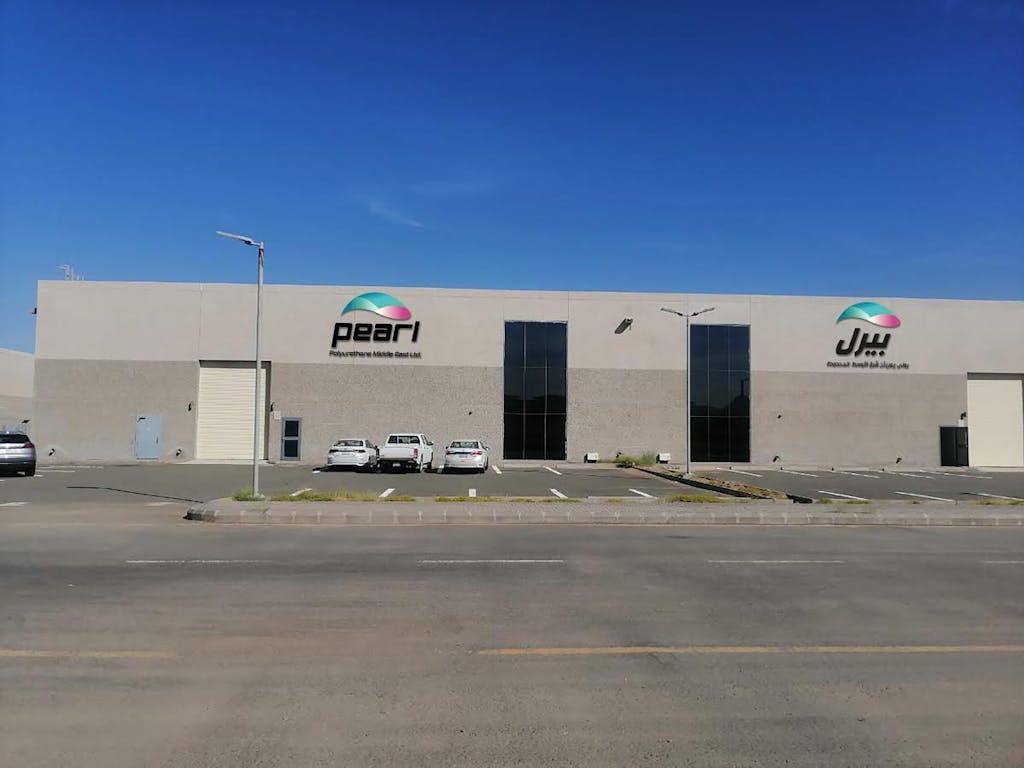 Pearl Polyurethane Systems, the award-winning PU system house, has announced the commissioning
of a major new production facility in Jeddah, Saudi Arabia, further reinforcing the company's industry-
leading position as the largest supplier of polyurethane formulations in the Middle East and Africa
region. Creating new job opportunities in Jeddah, the dedicated plant and office will accommodate
the company's growing team while further expanding its presence in the Kingdom. With this new
facility, Pearl is accelerating the implementation of its PearlX2 growth plan set to double the
company's size over the coming five-year period.

Jeddah was chosen as the site for the new Pearl production plant due to its proximity to the city's
major international port, access to top talent, and excellent transport connections across the
Kingdom.

The new facility will contribute to strengthening Saudi Arabia's position as a growing manufacturing
hub, with Pearl's new plant producing polyurethane formulations and high-performance
polyurethane foams widely used in building insulation products, manufacturing processes, and a
range of other everyday applications. Furthermore, the new production facility will leverage Jeddah's
strong position as an export hub catering to further demand from across the wider region.

Investment into Pearl's new Jeddah production plant also marks a significant step for the company in
reaffirming its commitment to its existing Saudi-based clients and their vision for the Kingdom to
become a world-class business and tourism destination. Through its clients, Pearl has been working
on multiple projects in Saudi Arabia over the recent years in various fields, including infrastructure,
retail, hospitality, architecture, and the built environment.

Pearl's expansion in Saudi Arabia is also closely aligned with Vision 2030 national transformation
program objectives, which aim to diversify the Kingdom's economy and promote private sector
growth. Considering the superior insulation capabilities of rigid polyurethane foams, Pearl's local
production plant in Jeddah will strongly support the objectives of becoming CO2-neutral by 2060.
"Our roots in Saudi Arabia run deep. Pearl has been servicing clients in the Kingdom for decades and
we are excited about this new production facility commissioning dedicated to providing our Saudi-
based clients with the very best delivery options possible and industry-leading innovation, while
ensuring supply chain resilience. The new Jeddah facility, coupled with investment and growth in our
other offices and facilities across the MENA region, will enable Pearl to maintain world-class service
delivery standards and respond to evolving customer demands across several product areas," said
Martin Kruczinna, CEO of Pearl Polyurethane Systems. "We are thrilled to offer our Saudi clients the
benefit of dedicated production and warehousing facilities in the Kingdom as well as the type of
personalised, customer-centric service that our international clients have become accustomed to over
the past 35 years.

"This investment represents another tremendous show of confidence in the growing strength and
significance of the Saudi Arabian economy and our company's close alignment with Vision 2030 goals.
Focusing on building and infrastructure insulation solutions, as well as consumer goods such as
appliances and footwear together with a range of other products, our new production facility ensures
that we continue to offer best-in-class PU solutions to our current and new Saudi-based clients,
supporting further manufacturing sector growth in the Kingdom," concluded Kruczinna.

Pearl's R&D team won the Innovative Insulation Project of the Year 2021 award for the first R&D
initiative of its type launched in the Middle East, and again in 2022 for launching its new, more
sustainable low lambda insulation product as part of its EcoPearl range, achieving an overall
improvement of up to 20 per cent in insulation performance over comparable products.

Operating since 1989, the company has supplied polyurethane insulation foam systems for several
trailblazing projects in the Gulf region, including Palm Jumeirah, Downtown Dubai, Ski Dubai, and,
more recently, the Germany Pavilion at Dubai Expo 2020 Bustanica, the world's largest vertical farm
for Emirates Airlines flight catering in Dubai, and Noon's fulfilment center in Saudi Arabia.
Pearl Polyurethane offers a comprehensive range of polyurethane formulations and prepolymers for
the production of high-performance polyurethane foams and elastomers.