Ransomware is Rampant
JBS Shutters All US Meat Plants As Cyber Attack Jeopardizes Food Supply
by Tyler DurdenTuesday, Jun 01, 2021 – 07:18 PM
Update (2002 ET): The USDA has released an important update about the Biden administration's steps to mitigate potential supply constraints and price surges following JBS' ransomware attack.
As noted earlier today by the White House, USDA is aware of the ransomware attack against JBS, which is affecting the company's operations, including its facilities in the United States. USDA continues to work closely with the White House, Department of Homeland Security, JBS USA and others to monitor this situation closely and offer help and assistance to mitigate any potential supply or price issues. As part of that effort, USDA has reached out to several major meat processors in the United States to ensure they are aware of the situation, encouraging them to accommodate additional capacity where possible, and to stress the importance of keeping supply moving.

USDA has also been in contact with several food, agriculture and retail organizations to underscore the importance of maintaining close communication and working together to ensure a stable, plentiful food supply. USDA will continue to encourage food and agriculture companies with operations in the United States to take necessary steps to protect their IT and supply chain infrastructure so that it is more durable, distributed and better able to withstand modern challenges, including cybersecurity threats and disruptions.
* * *
Update (1916 ET): Bloomberg News reports an official at the United Food & Commercial Workers has indicated all JBS' US meat plants have been shuttered due to a ransomware attack over the weekend.
According to CBS News, JBS has halted operations at 13 of its processing facilities. A complete list of the plant closings is shown below.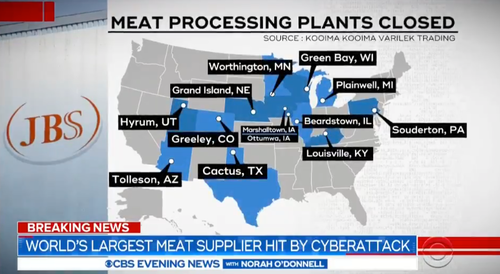 The JBS ransomware attack is a threat to the US food supply as the world's largest beef company controls about a quarter of the US beef market. If JBS cannot slaughter cattle or hogs over a sustained period, or perhaps in a matter of days, shortages could develop, and prices may spike.
Take note of what happened three weeks ago during the Colonial Pipeline Co.'s ransomware attack resulted in shortages, soaring gas prices, and panic hoarding.
As millions of Americans sit down for dinner this evening, the news will fill them in on the JBS ransomware attack. Already, search trends for "meat shortage" are skyrocketing.
So when does panic hoarding begin?
* * *
Update (1425 ET): Americans across the country are increasing Googling "meat shortage" as the afternoon progresses following the news of the JBS ransomware attack.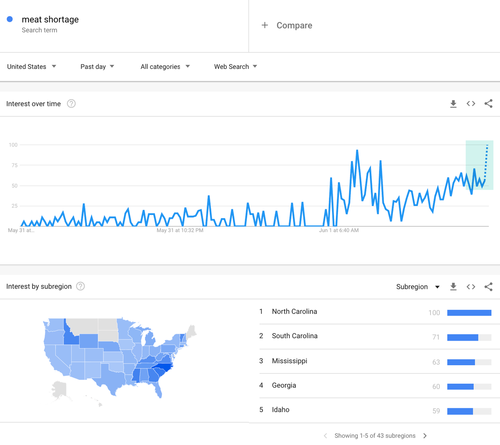 * * *
Update (1409 ET): Reports continue to trickle out, this time with Bloomberg, JBS, the world's largest meat supplier, has suspended operations at ten meat plants after a ransomware attack.
* * *
Update (1405 ET): The White House has confirmed JBS, the world's largest meat supplier, was the victim of a "ransomware" attack over the weekend.
Headlines from Reuters, citing Biden administration officials, who spoke with JBS, indicate "Russia was the source of the attack." White House officials have talked with the FBI's cybercrime unit to assess whether the attack, which has shut down JBS' five biggest beef plants in the U.S., will affect the nation's supply.
Bloomberg said JBS' five meat processing plants handle approximately 22,500 cattle per day. The result of halting these plants for an extended period could result in a decline of upwards of a quarter of America's meat production.
As we noted earlier this morning, slaughter operations in Australia were also affected. Also, Canada's largest beef plant was idled for a second day.
Readers need to focus on that a quarter of all beef capacity and about a fifth of all pork capacity in the U.S. has been affected due to the ransomware attack.
The timing of the attack comes after a long holiday weekend in the U.S. when tens of millions of Americans buy pounds of meat and have backyard barbeques. Supermarkets usually reload on supply the following week.
"Retailers and beef processors are coming from a long weekend and need to catch up with orders," Steiner Consulting Group said in its Daily Livestock Report. "If they suddenly get a call saying that product may not deliver tomorrow or this week, it will create very significant challenges in keeping plants in operation and the retail case stocked up."
Bloomberg points out JBS closed meat processing facilities in Utah, Texas, Wisconsin, and Nebraska and eliminated shifts at Iowa and Colorado shifts on Tuesday.
Visualizing JBS' U.S. capacity is rather frightening, as this may suggest soaring meat prices and shortages could be next. Source: Bloomberg
In the last month, hackers mounted a ransomware attack spree in crippling supply chains of critical commodity-linked companies. Three weeks ago, Colonial Pipeline Co.'s ransomware attack resulted in shortages, soaring gas prices, and panic hoarding.
What do you think happens here if ransomware issues at JBS aren't resolved promptly?
* * *
JBS USA, the world's largest meat supplier, released a statement Sunday evening, saying it was the target of an "organized cybersecurity attack."
JBS, which has North America headquarters in Greeley, Colorado, said the cyber attack "affected some of the servers supporting its North American and Australian IT systems."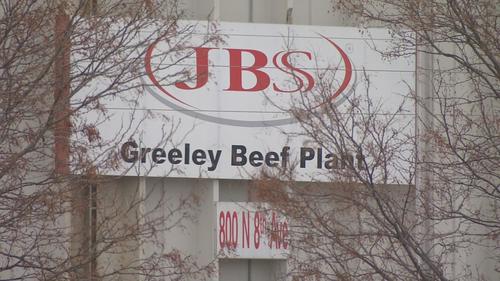 "The company took immediate action, suspending all affected systems, notifying authorities and activating the company's global network of IT professionals and third-party experts to resolve the situation," the statement continued. "The company's backup servers were not affected, and it is actively working with an Incident Response firm to restore its systems as soon as possible."
Industry website Beef Central said the attack already impacted two shifts and halted processing at one of Canada's largest meatpacking plants. Operations at all beef and lamb slaughterhouses in Australia ground to a halt, and some slaughtering and fabrication shifts have also been canceled in the U.S.
It's still unknown how the attack might impact consumers or if a meat shortage would be sparked. There is still no word on a timeline of when the JBS' systems will be completely restored.
Earlier in the month, hackers attacked the biggest U.S. gasoline pipeline operator, crippling East Coast energy infrastructure, which resulted in disrupted fuel flows, sending gasoline prices at the pump to multi-year highs. News of the hack led to panic hoarding by concerned folks.
This one-two punch of hacking incidents in the commodity industry shows that nothing is safe.
*This is an ongoing situation, and more updates will follow. 
https://www.zerohedge.com/commodities/cyber-attack-hits-jbs-global-meat-processing-operations
« Previous Post
Next Post »