Recticel to Acquire FoamPartner
Recticel realises a key step in its strategic transformation with the acquisition of FoamPartner
Regulated information, Brussels, 10/11/2020 — 06:55 CET, 10.11.2020
Recticel announces that it has entered into final agreements with Swiss-listed Conzzeta AG (SIX:CON) to acquire 100% of FoamPartner in cash for an enterprise value of CHF 270 million, CHF 20 million of the price being payable in January 2022. This represents an 8.6x average 2019A-2020F normalized EBITDA multiple. The transaction is subject to customary conditions precedent including antitrust approvals.
FoamPartner is a global provider of high value-added technical foam solutions in the Mobility, Industrial Specialties and Living & Care markets. There is significant complementarity and synergy upside with Recticel.
This acquisition is expected to :
accelerate growth in high value-added activities focused on innovation;
enable Recticel to strengthen its European and global presence in specialty foam solutions, specifically in the faster growing APAC and North American markets;
be accretive to group margins before synergies, as of the first full year of consolidation;
result in EUR 14 million of synergy upside by 2023, with a run-rate of EUR 10 million achieved by end of 2021.
The FoamPartner business will be merged with the Recticel Flexible Foams division to form the new Engineered Foams business segment.
Financing is secured by a syndicated acquisition facility which has been arranged and fully underwritten by KBC Bank and to which Belfius Bank and BNP Paribas Fortis confirmed their participation. The acquisition facility has a 3-year tenor with two 1-year extension options.
Closing of the transaction is expected to be completed in the first quarter of 2021.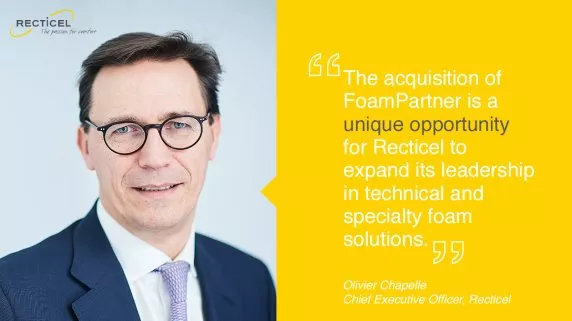 Olivier Chapelle (CEO) states: "The acquisition of FoamPartner marks an important step in Recticel's strategic portfolio reorientation. Following our divestment of Eurofoam in April, today's announcement is evidence of our strategy to reallocate capital to higher growth and more profitable business opportunities. This transaction is a unique opportunity for Recticel to expand its product offering in technical and specialty foam solutions and to further increase our global reach in Asia and North-America. We look forward to welcoming our many new and highly skilled colleagues from FoamPartner. Looking ahead, this acquisition supports our ambition to become a global provider of engineered foam solutions and will create significant value for our customers, employees and all other stakeholders. In conjunction with today's announcement, Recticel has launched a strategic review to evaluate the future of the Bedding business segment within Recticel, which progressively becomes a Group primarily focused on Insulation and Engineered Foams."
https://www.recticel.com/recticel-realises-key-step-its-strategic-transformation-acquisition-foampartner.html
« Previous Post
Next Post »