Recycled Ship Issues
Fire Kills Five Workers at Gadani Shipbreaking Yard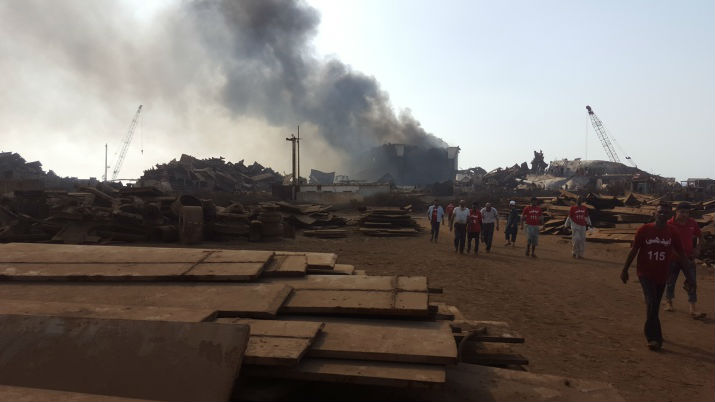 The November 1 fire on the FPSO Aces (file image)
On Monday, five workers were killed and an unknown number remained missing after a fire tore through a scrapped LPG vessel at Gadani, Pakistan. Roughly fifty workers were on board at the time of the fire, and local media report that most were evacuated by lifeboat from the stern of the vessel.
It is the third such fire at the Pakistani shipbreaking yards since November, the second on the same LPG vessel and the second with multiple loss of life. The worst of the recent accidents, the explosion and fire on the defunct FPSO Aces on November 1, left at least 25 dead and 58 injured. It led to a month-long shutdown at Gadani amidst calls for reform. Investigators allege that Aces had been used for petroleum product smuggling when she came ashore, and that she still had flammable liquids in her tanks when the fire broke out.
Like the blaze aboard the Aces, Monday's accident may also have been caused by improper preparation: Dawn.com reports that foam insulation on board the gas tanker had not been removed before demolition and had caught fire.
Polyurethane foam is a common insulating material for gas carriers, and while it has many commercial advantages, it is highly flammable and emits toxic fumes when burned. In 1980, the U.S. Coast Guard issued a warning to operators that urethane foams are banned in normally occupied spaces, and that in holds and machinery spaces they should be covered with a protective layer of sheet steel.  The agency warns that foam should be removed by cold means before performing hot work.
Police detained the vessel's owner, Rizwan Diwan Farooqi, who is also the former chairman of the local shipbreaking industry association. Local reports allege that Farooqi fled the scene of the fire and was arrested in the nearby city of Hub.
Pakistan's shipbreaking industry employs over 10,000 people and contributes about $100 million to the nation's economy, according to the International Law and Policy Institute. However, detailed information on its negative impacts is hard to find: ILPI reports that operators and regulators do not generally document mishaps, so data on accidents is lacking. Working conditions are poor, with no personal protective equipment, no safety training, seven-day workweeks and no clean drinking water.
The South Asian yards – Gadani, plus the much larger operations at Alang, India and Chittagong, Bangladesh – recycle roughly 70 percent of the world's outdated tonnage, using low-tech methods that have changed little over the decades. The sale of ships from developed countries to South Asian buyers is controversial: proponents like Maersk Line claim that engagement with the beaching yards will raise their standards, and opponents – notably NGO Shipbreaking Platform – argue that shipowners should use pierside or drydock yards instead.
http://www.maritime-executive.com/article/fire-kills-five-workers-on-scrapped-lpg-tanker
« Previous Post
Next Post »