Single-Family Housing Surges
US Single-Family Building Permits Reach 12-Year High
After a big rebound in October, analysts expected a more mixed picture for November with starts expected to extend gains while permits are seen falling. However, the data was much more positive:
Housing Starts +3.2% MoM (vs +2.4% exp)
Building Permits +1.4% MoM (vs expectations of a 3.5% drop)
The second monthly rise in a row…
Source: Bloomberg
Housing Starts rose 13.6% YoY – the most since May 2018…
Single Family Starts accelerated back near cycle highs and multi-family also rose in November.
And single-family permits hit 918k – the highest since August 2007…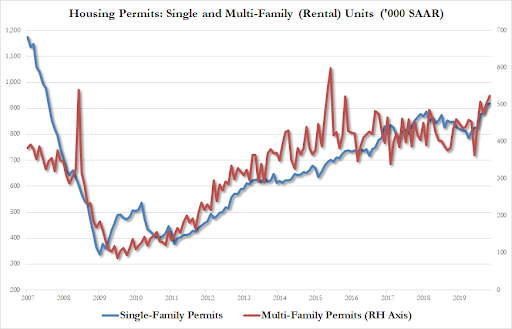 Two of four regions posted a gain in starts, led by a jump in the South to the fastest pace since March 2007. Starts in the West also advanced.
All-in-all, very positive – corroborating other housing data, such as Homebuilder sentiment soaring to a 20-year high in December – as long as Powell keeps rates low.
The data indicate residential construction may add to fourth-quarter growth after contributing in the previous quarter for the first time since the end of 2017.
https://www.zerohedge.com/economics/us-single-family-building-permits-reach-12-year-high
« Previous Post
Next Post »