Summer Furniture Market in Tupelo
Toned-down summer furniture market set to start Thursday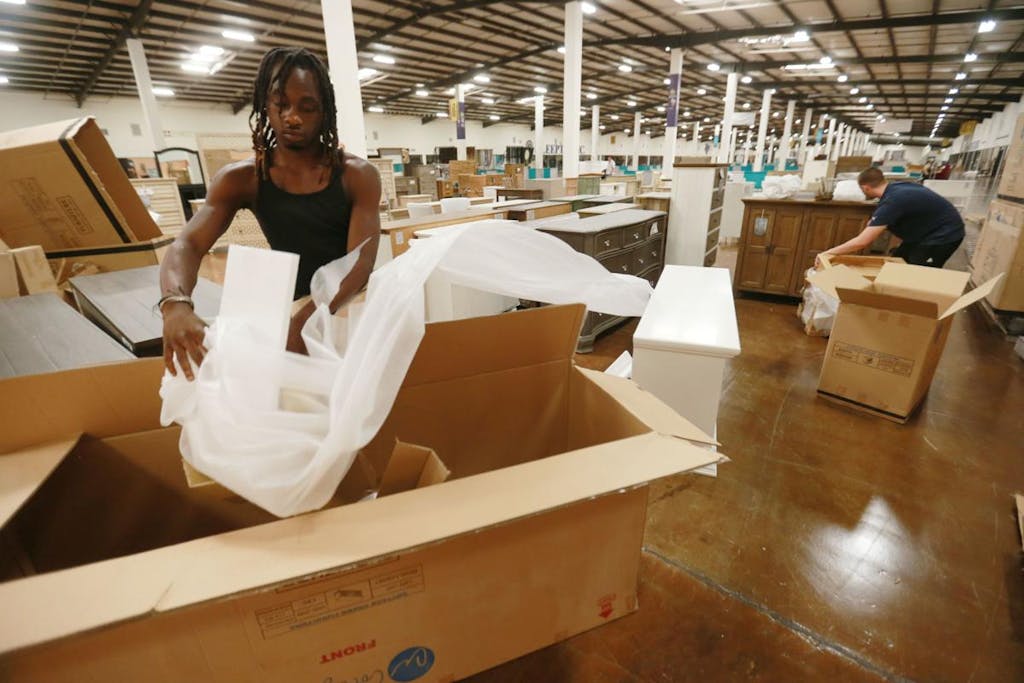 TUPELO • It's been seven months since the last major furniture trade show, setting up what should be, under normal circumstances, a pretty good Summer Market at the Tupelo Furniture Market.
But 2020 has been anything but normal.
With the COVID-19 pandemic taking root in March, which led to shutdowns of businesses and schools for weeks, the economy still is trying to recover.
And while there's been evidence to show consumers are buying again, it will take some time to recover.
So the question confronting the Tupelo Furniture Market, which starts its Summer Market this week, is who will show up?
"It's shaping up pretty good actually," said V.M. Cleveland, the chairman of the market. "We've had people calling in who haven't been here in years because their stores are doing well and they can't get product, so they're coming here to source their stores."
Cleveland doesn't deny that COVID-19 will have an effect on overall attendance, but thinks that the market will perform better than admittedly low expectations.
"We've had some last-minute cancellations for various reasons, including some who had a case of coronavirus pop up at their factory," he said.
Market officials had already consolidated the summer show into just three buildings – four through six – a move that Cleveland had said would happen after the Winter Market in January.
On Tuesday afternoon, with exhibitors getting their show spaces ready, plenty of space was available. Building 6 was about two-thirds filled, and four and five were about half-filled. The market doesn't officially start until Thursday, so there's still time for other vendors to arrive.
Affordable Furniture, which has shown at Tupelo since 2005, has a new home in Building 5. But CEO Jim Sneed doesn't have particularly high expectations for the market.
"We're going to open on a voluntary basis with our sales reps," he said. "I have five of 16 reps coming, and we're not showing anything new. I don't expect much."
On the other hand, Dow Canup with Kingston Casual, an outdoor and patio vendor, said this week's market is the most important one for his company.
"Outdoors is segmented a lot," Canup said. "High Point and Las Vegas have different looks and their shows aren't timed well. This show in Tupelo is timed well … January is before the big selling season and August is perfect for those of us who import. So the timing is perfect."
Kingston also usually shows at an outdoors trade show in Chicago, which is the primary market, but that was cancelled. So the Tupelo market has become all-important.
But business will be a little different, Dow said.
"We have Zoom calls lined up all across the country, from major chain stores to mom-and-pop stores and specialty suppliers," he said. "We've got five full days of Zoom calls lined up. With COVID, it's just a different year."
Dow has high expectations for the market, even though only about 60% of his customers who usually come plan to attend in person. Much of the buying will be done through Zoom.
And the outdoors industry has fared well during the pandemic.
"Outdoor has been blessed with the economy as people have stayed home," he said. "They're redoing their spaces, and many of our retailers are saying it's their best year ever. That's great for us, too. They thought it would be the worst year ever, as they were closed down in the key months. But once the economy opened back up, they just blew through inventory."
Cleveland hopes that sentiment is shared in the residential home furnishings and accessories market as well. He expects a more business-like approach this market since the usual social gatherings and award ceremonies have been cancelled.
"We're not going to do any group gatherings, unfortunately," he said. "We're not doing to do anything that causes people to congregate in one spot, so no Buyer's Award, Manufacturer's Rep Award, no dinners or bands. Hopefully we can bring them back next market."
Attendees will required to wear masks at the market, and before entering, they'll have their temperatures taken, Cleveland said. Masks will be provided if attendees don't have one.
Also, hand sanitizer stations will be located throughout the buildings.
"Social distancing won't be a problem," Cleveland said. "We've got multiple entrances, wide hallways and even with the smaller market, we still have about 1 million square feet under roof."
https://www.djournal.com/news/business/toned-down-summer-furniture-market-set-to-start-thursday/article_9fc62b12-edf4-5b79-acdf-2db77cf643d9.html
« Previous Post
Next Post »