UV Cured Millable Gum from TSE
TSE Industries Introduces First Ever UV Curable Millable Polyurethane Rubber Compound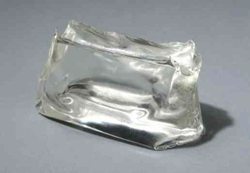 TSE announces new Millathane® UV, a UV curable millable polyurethane compound. For the first time ever, millable polyurethane extrusions can be continuously cured, and products molded, using UV light without the use of ovens, microwaves or salt bath units.
Millathane® UV curable compounds can be extruded or calendered, onto fabric or as unsupported sheet, and then continuously cured by passing them through a UV-curing conveyor belt chamber. Molded parts can be press-cured using special transparent molds to allow curing with UV light, or can be cured in a UV chamber. Time of irradiation varies with the nature and type of material, the type and concentration of other ingredients, and the type and power of the light source.
What You Can Make With It…
Our new Millathane® UV is great for extruding hollow tubing and other continuous shapes, such as bars, rods, L-channels, U-channels, square tubing, and the like. Physical properties are similar for UV and peroxide cured compounds. Typical compounds are in the 60-80 Shore A range, but higher and lower hardnesses will be available.
Potential applications for Millathane® UV include:
Continuous Extrusions – profiles, tubing, hose covers, cable jackets, tapes, & sheeting
Molded Parts
Rubber Covered Rollers – crosshead extrusion, strip winding
Rubber-Coated Fabrics
Coatings
Applications Requiring Low Temperature or Room Temperature Cures
Millathane® UV Benefits Over Conventional Curing
New Millathane® UV offers several great benefits over conventional curing techniques:
Super-fast cure time = Increased productivity
Ability to continuously cure Millathane® millable polyurethane compounds
Abrasion resistance and COF may be improved over conventional processing
Lower mold fabrication costs – Use Lexan or epoxy instead of steel!
Use less expensive hub and insert materials since less sensitive to thermal distortion
Less shrinkage due to lower curing temperatures
Rubber-coated fabrics can be cured immediately after calendaring
3D UV Processible – Rapid turnover from solid model to working prototype
Reduced energy costs due to fast curing at room temperature – Usually, just 1 to 2 minutes!
Read more at http://www.virtual-strategy.com/2015/10/12/tse-industries-introduces-first-ever-uv-curable-millable-polyurethane-rubber-compound#Q5j4LWF3tLthCWCb.99
« Previous Post
Next Post »