Wanhua Orders Third Particleboard Plant
Wanhua places third order with Dieffenbacher
13 September, 23:05
Wanhua places third order with Dieffenbacher, as the company said in the press release received by Lesprom Network.
The new order includes the core package of a straw particleboard plant, from the forming station and the 8.5-ft wide and 28-m long CPS through to the raw board handling and extraction system.
The plant will be installed at Wanhua's site in Jingmen in the Chinese province of Hubei. Commissioning is planned for mid-2018.
The Chinese Wanhua Industrial Group is one of the world's largest manufacturers of MDI resin. Since 2006, the Group has also devoted itself to developing and producing formaldehyde-free panels made of wood and straw and founded the subsidiary Wanhua Ecoboard for this purpose.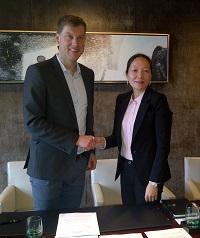 « Previous Post
Next Post »