Chlorine Overview
Ida Disrupts Chlorine Production, Raising Risk of Higher Prices
By Kevin Crowley August 30, 2021, 5:29 PM EDT Updated on August 30, 2021, 6:06 PM EDT
Westlake, Formosa shut down facilities ahead of storm
Chlorine was already in short supply after February's freeze
Hurricane Ida's landfall on the U.S. Gulf Coast caused production outages in the heart of the country's chlorine manufacturing industry.
Chlorine was already in short supply after a deep freeze in February knocked facilities offline for weeks. Now, widespread power outages around Baton Rouge, Louisiana may increase prices further, according to Robert Stier, a senior petrochemicals analyst at S&P Global Platts.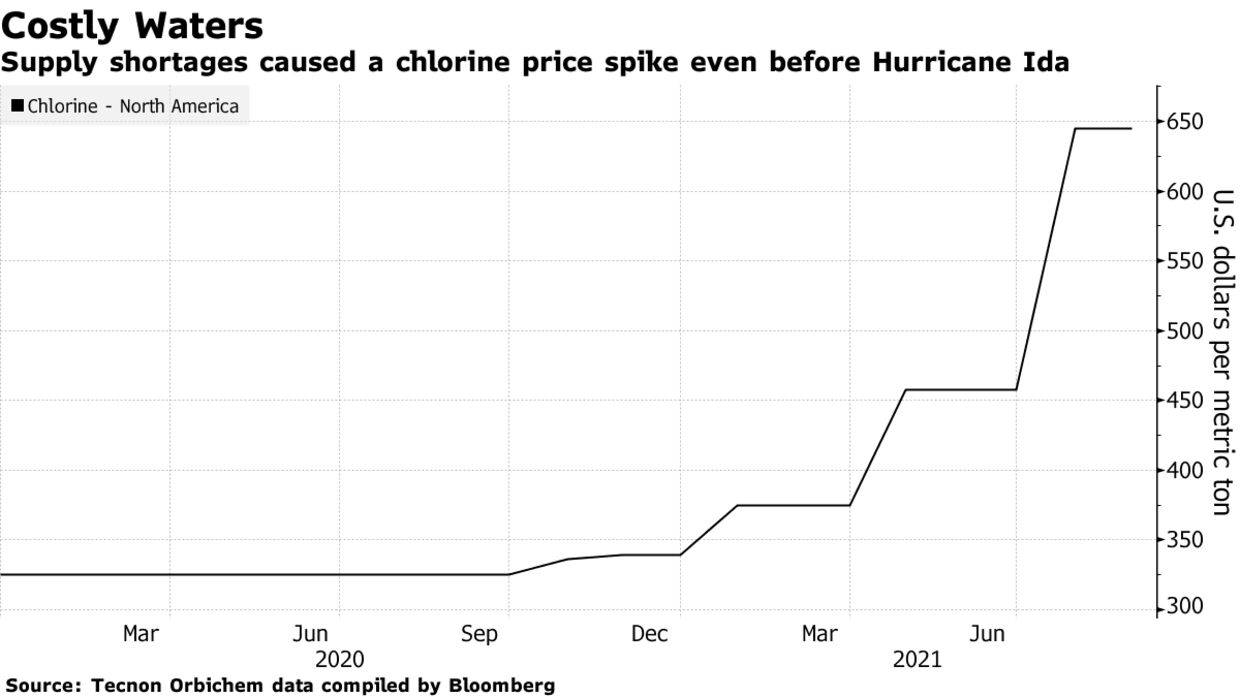 "Chlorine is going to get really tight" because of the industry's concentration in the Louisiana area, he said.
READ: Ida's Aftermath Raises Environmental Fears in 'Cancer Alley' (1)
Westlake Chemical Corp. shut two Louisiana facilities that make chlorine over the weekend. An assessment of the storm's impact may take several days, the company said. Formosa Plastics also closed a plant in Baton Rouge, according to ICIS, a data provider.
Chlorine manufacturers also tend to make PVC, a key building material used in pipes, siding and other construction materials. Gulf Coast contracts for PVC were already trading at record highs before the storm, according to ICIS.  
https://www.bloomberg.com/news/articles/2021-08-30/swimming-may-get-pricier-as-hurricane-ida-hits-chlorine-supplies
« Previous Post
Next Post »