Leggett & Platt Overview
January 22, 2023
Leggett & Platt: Sturdy Foundation But Underwhelming Projections
Jan. 21, 2023 1:19 AM ETLeggett & Platt, Incorporated (LEG)2 Comments
Summary
Leggett & Platt maintains a stable performance despite the softening of demand.
Its liquidity stays decent, allowing it to sustain its capacity and potential headwinds.
Projections may not be as exciting as they were in 2022.
Dividend payments are enticing, given the growth and yield.
The downward momentum of the stock price remains visible but acceptable.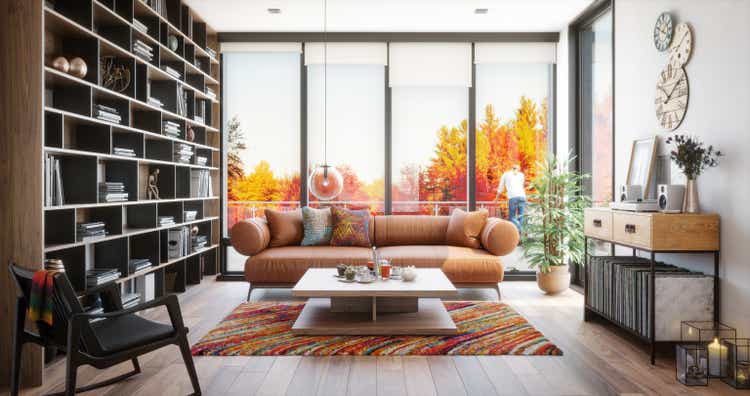 With over a hundred years of existence, Leggett & Platt, Incorporated (NYSE:LEG) has been through a lot of crests and troughs. It has withstood various market challenges, making it a durable industry staple. In the last two years, it has stayed stable and flourishing amidst changing market dynamics.
Today, Leggett shows well-balanced growth and fundamental stability. The demand has softened, but revenues and margins are still manageable. Lower revenues may be anticipated as market demand cools down. Thankfully, furniture companies, including LEG, have already shown inventory recovery. Supply catches up with demand, so inventory management may become easier. Also, it maintains a decent liquidity position to suffice its operational capacity. It derives adequate core operating returns to cover borrowings. As such, it can sustain itself without raising its financial leverage further.
Moreover, the company remains consistent with dividend payments, making it one of the Dividend Champions. However, the stock price seems too high for fundamentals and does not reflect its intrinsic value.
Company Performance
The past two years had caused dramatic changes in the furniture and home furnishing industry. After suffering from pandemic disruptions that limited its operations, its performance spiked in just a year. It has remained an industry staple with solid market positioning. Thanks to lower prices, remote work setups, and the massive shift in consumer behavior. The real estate market boom also drove its growth. As more houses were bought, furniture and fixtures followed the trend. Today, Leggett & Platt keeps stable core operations amidst the current market patterns.
The operating revenue amounts to $1.3 billion, a 2% year-over-year decrease. Several factors contribute to this downtrend. First, the impact of inflation has been reflected. In 2022, we have seen how inflation peaked and set a new forty-year all-time high. It affected the purchasing power of many customers, especially in the US and Europe. Also, the skyrocketing fuel prices made it more challenging to transport raw materials and process products. Even more noticeable is that other countries reacted slower to inflation than the US. As we can see, the US inflation lull began in 3Q 2022. In Europe, inflation has just started to cool down. So the impact of the rising prices in LEG's international markets remains keenly felt. It is not easy for consumers to adjust to price changes, putting downward pressure on the demand.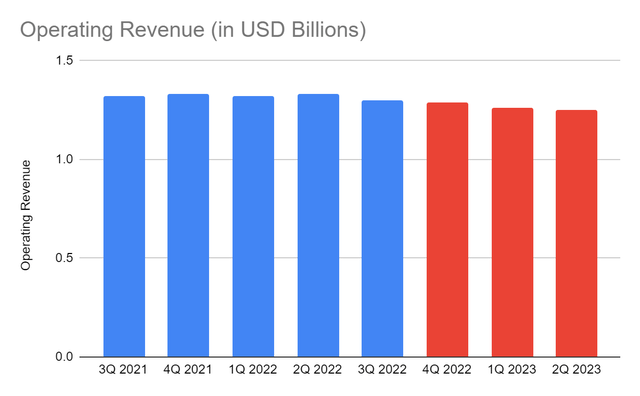 We can also attribute it to the cooling home demand. Home sales have slowed down in the last year. It has become more evident in the second half. In turn, the demand for furniture and home furnishings was impacted. Auto demand also showed a slowdown. Both these segments were vital for Leggett.
Despite this, Leggett now still exudes operational stability. It is an attribute an investor must watch. Indeed, it continues to stand the test of time. One way is through its pricing. It remains capable of making up for the lower demand by imposing strategic prices. These appear effective and flexible to market changes.
Moreover, LEG keeps concentrating on aspects it can manage and enhance. First, we can see it in its inventory adjustments. Supply chain bottlenecks have become one of its problems in the last two years. But we can now see a substantial improvement in its inventory levels. This move is in line with the market. It gives them increased flexibility in pricing and cost-reduction management. It has delivered its backlog, helping it through drastic business cycles. Its backlog delivery has been solid, but now, we can see its end. It is no wonder, the industry, including LEG, is starting to return to a normal business flow. Supply is catching up with market demand, so the company is regaining its stride. Although sales are lower, its supply chains are improving. It will help the company maintain a balance in revenue and margin stability.
Meanwhile, operating costs and expenses are well-managed despite the high-flying prices. The efficiency of the company is helping it partially offset the revenue decrease. Although it is insufficient, the core operations remain stable and viable. Despite some demand slowdowns, the swift supply chain recovery helps enhance operational efficiency. The operating margin is relatively weaker in sequential values. But it stays decent at 8.7%, down from 10% in the comparative quarter.
This year, I expect more normality in business flows. Seasonality may also return and become a prevalent factor. Near-term performance may not be as robust as in 2021 and 2022, but stability may remain. As the inflation lull continues, producing, transporting, and transporting raw materials and finished products may be less expensive. As LEG regains a grasp of its supply chains, it may keep improving its cost-reduction strategies. It may be more agile in setting optimal prices. I expect growth to cool down, but core operations may stay manageable. I also expect the first-half revenues to decrease more. Even so, expect the operating margin to stay near its current level as costs and expenses decrease. It is a combination of lower inflation and the production volume adjustment of Leggett & Platt. But it may have to work more on advertising to secure its place in the market.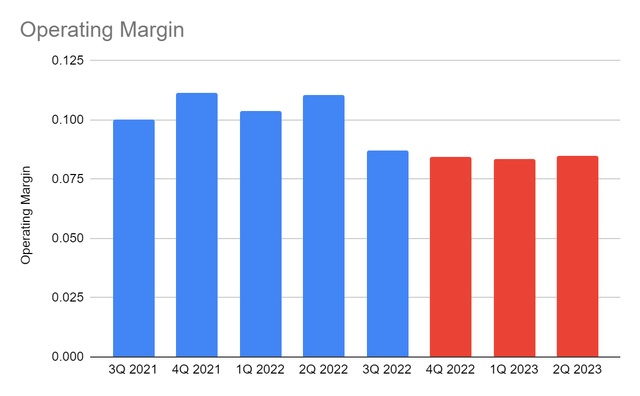 What's important is that LEG stays consistent with the market trend. As of this writing, the 2022 US furniture and home furnishing sales are 1.6% higher than in 2021. November and December sales are not included yet, so the total value may reach $142 billion. Despite this, the recent market demand and volume trend are in a downtrend and may persist in 2023. Its value may decrease further this year but may stay elevated. But of course, LEG and the whole market must not be complacent. The increased presence of smaller retailers and the rise of e-commerce may become other hurdles.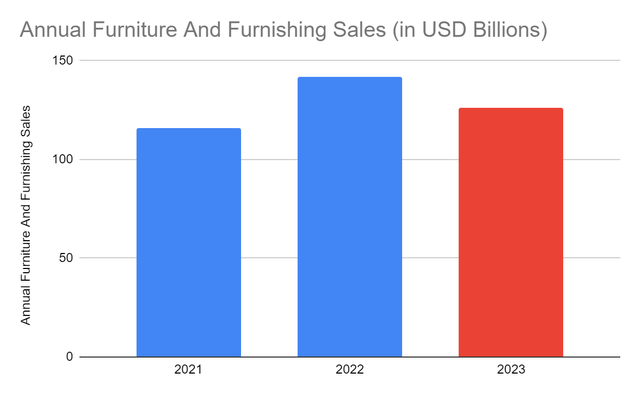 How Leggett & Platt Can Sustain Its Operations
Leggett & Platt has always been one of the most indelible figures in the industry. In its long existence, it has maintained operational stability, making it a secure investment. Yet, market dynamics are changing and may become underwhelming this year. The consolation we have now is that inflation keeps decreasing, so I expect interest rate increments to cool down. I am not discounting the potential recession, though. Despite this, I am more optimistic since the recent changes are part of economic recovery. The unemployment rate remains manageable and low. Income levels are higher today. Business reopenings and capital inflows may continue.
But what makes LEG durable despite the underwhelming expectations is its market and financial positioning. The decreasing inventory level can help it cope with cooling demand. It can help improve operational efficiency to stabilize margins. Even better, it maintains adequate cash levels. The only worry we have now is the substantial increase in borrowings. It is still understandable since interest rate hikes make borrowing costs higher. But it must be more careful to maintain adequate liquidity. Thankfully, the company is still earning enough to cover borrowings. The Net Debt/EBITDA Ratio remains acceptable at 3.7x. It is lower than the maximum ratio of 4x, especially since LEG is a capital-intensive company.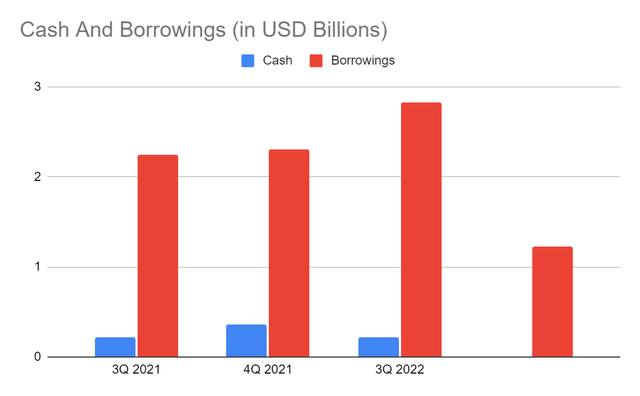 The cash flow of the company can confirm its liquidity. Its operating cash flow of $65 million is more than twice as much as its CapEx of $24 million. With that, it has a remaining amount of $41 million. Its FCF can repay near-term borrowings and dividends. It also has enough cash to preserve its intrinsic value by repurchasing shares.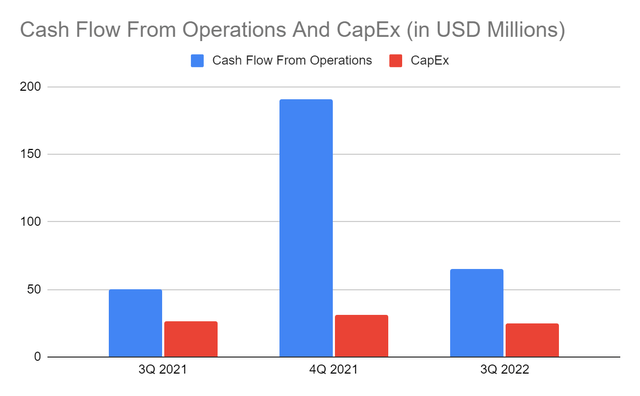 Stock Price
The stock price of Leggett & Platt remains in a downtrend. It does not convey any upside or reversal potential. At $33.46, it remains 11% lower than its value last year. But it appears reasonable as some price metrics show. Using the current price-earnings multiple of 12.7x and my estimated EPS of $2.32, the target price is $29.46. NASDAQ has a more optimistic view with an estimated EPS of $2.36, but the target price is still low at $29.97. There may be a 10-12% potential downside. The estimation using the EV Model ($6.64 B – $2.51 B) / 132,619,000 shares agrees with it with $31.37 as the target price.
Meanwhile, dividends stay enticing with yields of 5.15%. It is way better than and more than thrice as much as the S&P 400 average of 1.54%. What's more interesting is its consistent dividend growth for about fifty years, making it a part of the Dividend Champions. The only concern we have is its Dividend Payout Ratio of 74%. To assess the stock price better, we will use the DCF Model.
FCFF $299,000,000
Cash $226,000,000
Borrowings $2,820,000,000
Perpetual Growth Rate 4.8%
WACC 9.2%
Common Shares Outstanding 132,619,000
Stock Price $33.46
Derived Value $31.68
Bottomline
Leggett & Platt remains a secure and stable company. Growth may not be exciting but fundamental soundness remains evident. Dividend payments are consistent with high yields while staying well-covered. However, the stock price remains in a downtrend but still appears overvalued. The recommendation, for now, is that Leggett & Platt is a hold.
This article was written by
Investigating The Stock Market
770 Followers
https://seekingalpha.com/article/4571341-leggett-and-platt-sturdy-foundation-underwhelming-projections?mailingid=30317284&messageid=2800&serial=30317284.96