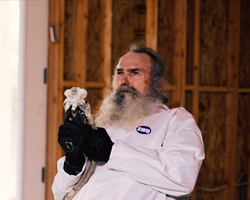 SWD is the best foam in the world, Jack
MESA, AZ (PRWEB)July 11, 2016
Silas "Uncle Si" Robertson, of 'Duck Dynasty' fame, endorses SWD Urethane, a leading spray polyurethane foam (SPF) manufacturer.
SWD's spray foam was installed at the home of a relative of Si Robertson. The entire job took just under two days to complete, and Mr. Robertson was made an honorary supervisor on the jobsite. Mr. Robertson also signed autographs and shared his off-beat humor with the rest of the crew.
"SWD is the best foam in the world, Jack," quipped Uncle Si, with his trademark iced tea in hand. A clip of Mr. Robertson on the job with the crew can be seen here: http://bit.ly/29tLTj5
Si was present on the scene to promote SWD's new open-cell spray foam product, Quik-Shield 108. This foam is the only Ultra-Low Density open-cell spray foam on the market. This means builders can get up to 25% more foam out of the same amount of liquid material as competitive products, enabling them to save hundreds of dollars on every home they build. Suddenly, spray foam is more affordable and competitive with traditional forms of insulation.
Si Robertson is an American television personality, preacher, outdoorsman, duck call maker, and retired U.S. Army Soldier who currently resides in West Monroe, LA. He is most famous for his role in A&E's "Duck Dynasty," where he is one of the most popular characters on the show.
SWD Urethane (http://www.swdurethane.com) is a leading supplier of spray polyurethane foam, manufacturing over 100 types of polyurethane foams and polyurea coatings. From 2014 – 2016, SWD has helped its contractors win 26 out of 60 SPFA Industry Excellence Awards. SWD has been in business since 1972, and they are one of the fastest-growing spray foam suppliers in the industry. SWD's president, Jim Perkins, is also the chairman of the Spray Foam Coalition, a key trade organization for spray foam suppliers. For more information, contact Alan Annis, Marketing Director, at 800-828-1394 or marketing(at)swdurethane(dot)com.
http://www.prweb.com/releases/2016/07/prweb13537165.htm