Everchem Updates
VOLUME XXI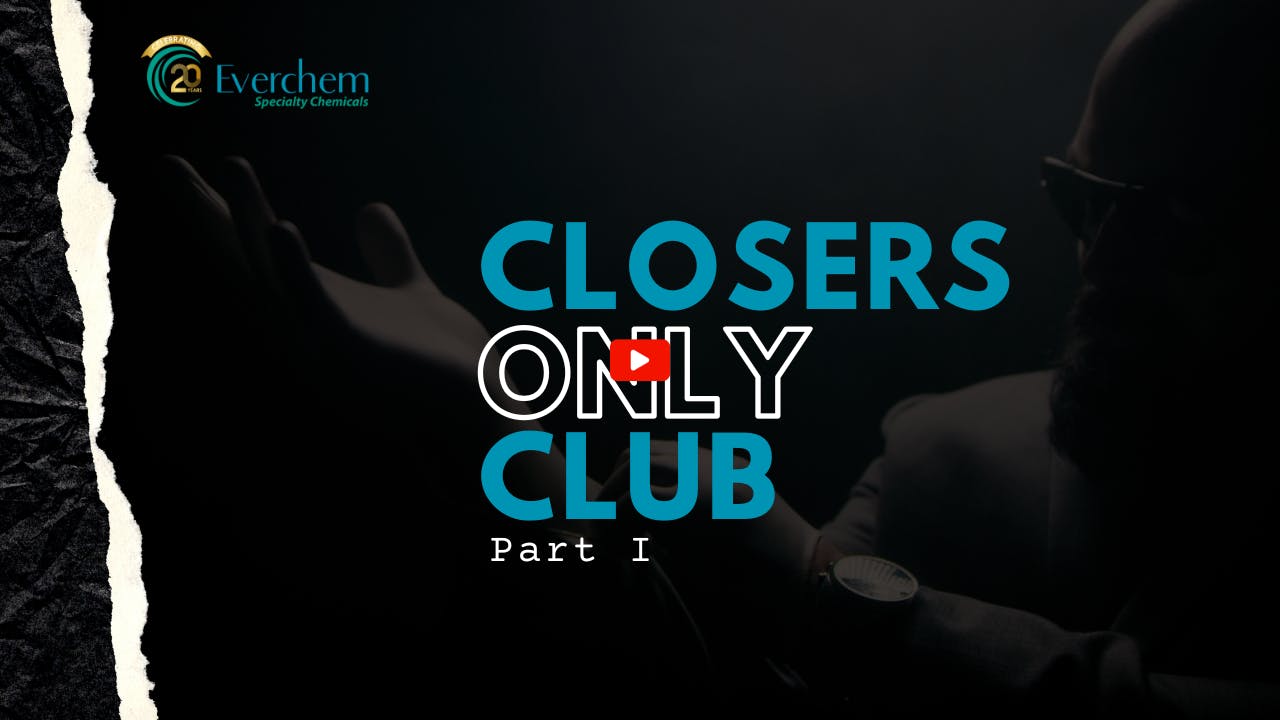 September 14, 2023
Everchem's exclusive Closers Only Club is reserved for only the highest caliber brass-baller salesmen in the chemical industry. Watch the hype video and be introduced to the top of the league: — read more
February 1, 2021

The Urethane industry has continued to experience raw material price increases along with significant product shortages. MDI, along with Polyol and fire retardants have had several price increases over the past several
months. SES has absorbed these and other increases that have resulted in a significant increase in our product costing. In addition to the severity of the increases, the industry is also burdened with significant supply shortages and logistical challenges. SES will continue to work hard to provide you with quality products in a timely manner.

SES must now implement an increase of $0.10/lb effective February 15, 2021 on all SES products shipped after February 12, 2021. This increase will be reflected on all orders shipped after Monday, February 15, 2021.

We continue to value your business and will continue to invest in resources to support your growth and performance in the industry.

Should you have any questions regarding your account or desire more details regarding the increases, please discuss with your account representative. Thank you for your continued support.
Tosoh Reports Its Consolidated Results for the First Nine Months of Fiscal 2021
February 02, 2021 –
Tokyo, Japan— Tosoh Corporation is pleased to announce its cumulative consolidated results for the first three quarters of its 2021 fiscal year, from April 1, 2020, to December 31, 2020.
The company's consolidated net sales for the nine-month period under review were ¥516.6 billion (US$4.9 billion), down ¥75.1 billion, or 12.7%, from the same period of fiscal 2020. The drop in net sales was attributable to a global-scale contraction in demand caused by the spread of the coronavirus and the resulting sharp decline in naphtha and overseas market conditions.
Operating income likewise decreased, ¥15.2 billion, or 23.1%, to ¥50.6 billion (US$476.9 million), from the same period one year earlier. This decrease was due to a decrease in sales volume, and a deterioration in the difference between product receipt and payment due to falling prices for raw materials and fuel.
Ordinary income decreased, ¥18.9 billion, or 26.9%, compared with the same period in fiscal 2020, to ¥51.2 billion (US$482.6 million). A decrease in insurance income was the main factor behind the drop in ordinary income. Profit attributable to owners of the parent company, in turn, fell ¥11.7 billion, or 25.4%, to ¥34.5 billion (US$325.2 million).
During the first nine months of Tosoh's 2021 fiscal year, the Japanese economy experienced a rapid decline in demand domestically and overseas. This was caused by restrictions on economic and social activity brought about by the spread of the coronavirus. Although there were indications of a gradual upturn in economic activity from summer onward, the outlook for the economy remained uncertain, as the number of people newly infected with the coronavirus rose rapidly in various parts of Japan from the end of 2020. Turning to the global economy, the momentum of coronavirus infection shows no signs of abating, with highly infectious variants having been identified mainly in Europe. The coronavirus continues to cause considerable damage to the societies and economies of countries around the world, giving rise to concerns of a prolonged economic downturn.
Chlor-alkali Group
The Chlor-alkali Group's net sales amounted to ¥190.7 billion (US$1.8 billion), a decrease of ¥33.0 billion, or 14.7%, compared with the same nine-month period in fiscal 2020. Group operating income also decreased, ¥1.3 billion, or 5.9%, to ¥20.5 billion (US$193.2 million), due to decreased shipments of urethane raw materials and vinyl chloride resin, and a deterioration in the difference between product receipts and payments caused by falling prices of raw materials such as naphtha.
Shipments of caustic soda, primarily for export, were essentially the same as during the corresponding period a year earlier, but product prices fell to reflect the decline in overseas market conditions. Shipments of vinyl chloride monomer (VCM) increased due to increased production volume, while poor market conditions abroad contributed to driving VCM product prices down. Domestic and export shipments of PVC resin decreased due to demand being suppressed by the spread of the coronavirus.
Domestic and export shipments of cement fell due to sluggish demand.
Shipments of methylene diphenyl diisocyanate (MDI)